Georgia Bulldogs 2023 Preview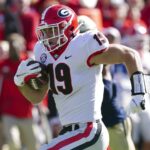 By: Kipp Branch
TheSouthernSportsEdition.com news services
How many Georgia fans remember the 1980 jokes?
Kirby Smart is entering his 8th season as the king of the bulldog nation. With an 81-15 overall record that includes 2-SEC Titles and 2- back-to-back National Titles.
Georgia currently is the premier football program in the country and the consensus preseason number one team in the country.
Years of consistent top 3 recruiting classes are paying off now for the program as UGA has become a major pipeline for the NFL.
Carson Beck has won the starting QB job and looks to have a breakout season. Beck has patiently waited his turn in the transfer portal era, and it should pay off for him.
The offensive line is the best in the country. The WR room is the best the program has ever seen, and then you have TE Brock Bowers who just may be the best player in the country.
The RB room is banged up and must get healthy by the South Carolina game on 9/16.
On defense, two words Kirby Smart. As long as Kirby is running things in Athens then UGA will be elite on defense.
Let's look at the schedule with my predictions:
Sat, Sep 2        vs UT Martin: UGA a lot and UT Martin a little. 1-0
Sat, Sep 9        vs Ball State: Thanks SEC for canceling the Oklahoma game and making UGA scramble for a replacement. UGA 49-10. 2-0
Sat, Sep 16      vs South Carolina: UGA is the last team to beat UGA in Athens back in 2019. The country will be hyping Carolina in this one, but UGA will look like a national champion contender in this contest and win 35-17 to go to 3-0.
Sat, Sep 23      vs UAB: UGA tunes up for Auburn 42-17 to go to 4-0 on the season.
Sat, Sep 30      @ Auburn: Auburn has rebuilt their roster in 2023 through the transfer portal. I have already seen the pundits attempting to call for an upset here. Hugh Freeze will be a problem for UGA while he is at Auburn. He is already turning Auburn around on the recruiting trail. UGA's next trip to Auburn in 2025 will be a monster game, but Auburn is not there yet in 2023. UGA wins 31-17 to go to 5-0.
Sat, Oct 7        vs Kentucky: UK has won once in Athens in 45 years, and they play annually. Not happening. UGA 27-14 to go to 6-0.
Sat, Oct 14      @ Vanderbilt: Last two years combined score is UGA 117-0. 7-0 going into the bye week.
Sat, Oct 28*    @ Florida: Florida is another school that is in rebuild mode. Billy Napier has a top five recruiting class in the works for 2024. Florida will be a lot better on defense, but offensively the Gators aren't there yet. UGA goes to 8-0 with a 35-21 win over Florida. I'll be in Jacksonville for the festivities.
Sat, Nov 4       vs Missouri: I'm putting UGA on upset alert here. Mizzou is sandwiched in a tough back end of the schedule for UGA. I'm worried about this one as Missouri could be a top 3 team in the SEC East. UGA wis 24-20 to go to 9-0.
Sat, Nov 11     vs (22) Ole Miss: Lane coming to Athens will have Kirby's full attention. UGA wins 42-24 to go to 10-0 on the season.
Sat, Nov 18     @ (12) Tennessee: Ok Tennessee you have been beating your gums all off season about this contest. Joe Milton is the most hyped QB in the country. Vol fans conveniently forget that Milton was the starter two years ago and lost his job to Hendon Hooker. I'm not buying the hype and Tennessee is not better than UGA on both lines of scrimmage. UT has been horrible in the secondary as well.  Statement game for UGA as they beat Tennessee 34-20 to go to 11-0.
Sat, Nov 25     @ Georgia Tech: UGA has not lost in Atlanta since 1999 and will not in 2023. UGA wins 45-24. 12-0.
Regular season 12-0 and favored to win SEC and National title for the 3rd consecutive year in the playoff era. Enjoy the mountain top UGA fans.