Georgia Bulldogs and Tennessee Volunteers Preview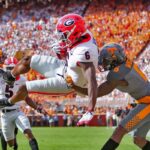 By: Robert Craft
TheSouthernSportsEdition.com news services
Tennessee and Georgia square off Saturday afternoon between the hedges in a showdown that dictates the SEC East and the landscape of the college football playoffs.
Tennessee has scored 40+ points in all five of their SEC games. The Vols are also coming off their best defensive performance of the season after holding Kentucky to six points and 205 yards (total offense).
On the other side, Georgia just took care of business with a 42-20 performance against Florida. The Bulldogs are hitting on all cylinders, and not just on one side of the football.
The Dawgs defense has earned a lot of hype over their past seasons, but this year the offense is the only unit in the SEC that's currently averaging both 200+ yards rushing and 300+ yards passing per game.
Georgia and Tennessee enter the battle unbeaten and on top of the college football world. Who will stay there? And who will fall?
Tennessee has risen to the occasion once this season in a similar matchup, knocking off Alabama 52-49 earlier this season.
The reigning national champions pose a real threat for this hot handed team, but the preparation remains the same for Josh Heupel and the Vols.
Georgia is 8-0 on the season, and they did go through about 10 quarters of football this season where they clearly underperformed: between Kent State, Missouri, and the first half of Auburn- they showed real signs of dysfunction and had fans convinced that they could lose.
Despite the lackluster play at the time, in each game the Bulldogs prevailed and looked dominant once the final whistle blew.
Stetson Bennett leads an offense that averages 41 points on 530 yards per game. The quarterback has thrown for 2,349 yards with 9 touchdowns and 3 interceptions while completing 67 percent of his passes. Bennett has also rushed for five scores, and that's an underrated part of his game.
"I think he's undervalued in some respects with his feet. He's explosive, he's twitchy," Heupel said of Bennett. "When it's not right in the pocket, he extends plays. That can be him throwing on scrambles, but also him tucking the ball and making plays. He made a couple against us last year that changed the game. You have to do a great job of bottling him up."
Tennessee quarterback Hendon Hooker remains squarely in the Heisman Trophy race, but the senior quarterback's focus is on his first goal: Atlanta in December.
Jalin Hyatt's stats in the last four weeks (three of those SEC games) have just been ridiculous. In the Vols' last four games, Hyatt has 584 yards receiving and 11 touchdown catches.
Tennessee's offense is fun to talk about, I get it, but the most eye-opening thing about Saturday's thrashing of Kentucky was the defensive dominance.
Kentucky ended the night with just 205 yards of total offense. Chris Rodriguez was held to just 64 yards rushing. The defense forced three turnovers.
Let's be clear, Georgia remains great on defense. They're the only team holding SEC opponents to less than 100 yards rushing (86.4 ypg) and in five SEC games they're allowing 189 yards per game in the air.
One thing I feel confident about is that Kirby Smart and Will Muschamp will have the Bulldogs Defense ready for the high-octane Vol's offense.
Slowing down Tennessee, to me, means keeping them in the 30s. Something no SEC defense has done yet.
With that, I think Georgia will also score, and control the clock. Saturday, Tennessee will show up prepared to play in a monster game like this under the national spotlight, but the lights will be too bright for them.
Georgia's Defense and Stetson Bennett's big game experience will lead the Dawgs to victory.
Georgia 48   Tennessee 31