Georgia Bulldogs Florida Gators Preview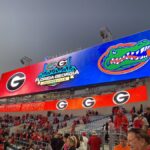 By: Robert Craft
TheSouthernSportsEdition.com news services
The St. Johns River will soon be flooded with fans of orange and blue, and fans of red and black. It's Florida-Georgia week, one like none other in over 30 years.
The No. 1 Georgia Bulldogs and Florida Gators will meet at TIAA Bank Field on Saturday and Georgia will come into the game as the two time defending National Champions.
Georgia handled business in their last game when they defeated the Vanderbilt Commodores 37-20. They will look to nurse their injured players during their bye week and return with more strength on the roster.
The Gators, on the other hand, overcame a double-digit deficit on the road to defeat the South Carolina Gamecocks. They'll also be taking advantage of the week off.
Despite both teams coming off wins, the Bulldogs still find themselves as massive favorites. Georgia is currently a -23.5 point favorite over the arch-rival Florida Gators.
The Bulldogs, 7-0 overall and 4-0 in the SEC East with a Oct. 28 showdown with Florida approaching, lost their Superman (Brook Bowers) to an ankle injury that required surgery.
Bowers is a junior and will enter the NFL Draft after the season. A high ankle sprain heals by itself with plenty of time before the NFL combine.
Instead, Bowers is getting the tightrope surgery, and right away. That's a huge sign from him that he wants to play again this season for Georgia.
He doesn't need to show anything to NFL scouts. But his team is in contention for a national championship, and while it's easy for outsiders to say "Just opt out, make a business decision," it's much harder for someone to abandon his teammates when a ring is on the line.
Bowers has played in every game since he arrived at Georgia. He's not the sole reason Georgia is 36-1 over that span, but he's a big reason the offense took off during that time: Defenses had to account for him in coverage, and Bowers is also a good blocker.
The Bulldogs are still loaded with talent. Carson Beck, in his first year as Georgia's starting quarterback, has the fourth-most passing yards (2,147) in the nation. And barely more than a quarter of those (26.4 percent) have gone to Bowers.
Oscar Delp, who now becomes TE1, is no slouch. He's Georgia's fifth-leading receiver and was a top-100 recruit in the 2022 class. His blocking has been rough at times, which is why Lawson Luckie may see a lot of snaps in rotation as TE2.
Georgia's main emphasis may become "spread-out-and-throw". Beck likes to sit back in the pocket and find the open receiver, and the pass blocking this year has been good.
Plus, you have Ladd McConkey  being back, Rara Thomas getting more comfortable, and other receivers who can make plays.
Georgia's running game has also started to get stronger, especially if Kendall Milton can stay healthy. That could also allow Dillon Bell to play more receiver or a hybrid position.
Maybe Georgia doesn't have the X-factor for its' offense as long as Bowers is out, but a more traditional receivers-and-tailbacks game can get you through an opponent like Florida.
The Bulldog defense will  keep the Gators in check, maybe along the lines of 14-to-20 points, a Bowers-less offense will take it from there, and the lead will get bigger and bigger.
Georgia 42  Florida 17