Georgia Bulldogs Young Studs Malaki Starks and Branson Robinson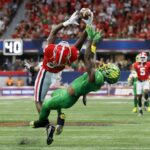 By: Joe Delaney
TheSouthernSportsEdition.com news services
Kinda sounds like a TV or Movie Duo, doesn't it? Fighting criminals or being superheroes. Well not yet anyway!
But with 6 games in the bag and the season almost half over, the Georgia Bulldogs have come into focus as a definite threat to repeat as National Champs.
Sure, they looked half asleep in the Kent State game and who can blame them.
Then came a trip to Columbia MO. and a wakeup call that said you better be ready every week in the SEC.
But back home in the friendly confines of Sanford Stadium, the Dawgs woke up and hammered the dog crap outta the Auburn Tigers 42-10.
So, as we move forward in the season there are 2 freshmen dawgs that have really stood out. One for the entire year and one who is going to be very difficult to keep off the field moving forward.
Malaki Starks has been a rising star since the first day he walked off the practice field in Athens.  Kirby knew it, Muschamp knew it and anybody close to the program knew it. He is that good.
His amazing interception against the Oregon Ducks and Bo Nix in the opener only let everyone else know how good this guy was. Eight tackles in his first game against the Ducks didn't hurt either.
Now 6 games into the season the 6'1" 205lb DB from Jefferson, Ga has 25 tackles and 2 interceptions. The second interception, he returned 42 yards against South Carolina.
The 19-year-old freshman was the ESPN #12 ranked overall player in the class of 2022 and looks every bit the part. A rare combination of length, size and speed coupled with superior athleticism put him on the field early.
Look for this guy to be a leader for the Dawgs D for the foreseeable future. He and Kelee Ringo have first round NFL written all over them.
Branson Robinson has taken a little longer to get on the field for the dawgs. Kenny Mcintosh, Kendall Milton and Daijun Edwards have all been ahead of Branson. All three of those guys are also All SEC caliber backs. There is only one ball, so his carries have been limited.  At least until the Auburn game.
He led the Dawgs in rushing against the Tigers and did it in VERY impressive fashion. He ran for 98 yards on 12 carries and a touchdown. That's an 8.2 yard average. And it earned him SEC Freshman of the Week honors.
But more importantly was HOW he did it. The 5'10" 220lb brick with 4.4 speed showed great vision, speed and above all power. He really is Nick 2.0. Wanna know how hard he runs? Ask J.D. Rhym from Auburn. I think his teeth are probably still chattering from his effort to tackle Branson in the fourth quarter.
Branson broke that and 4 or 5 other tackles in the fourth quarter alone. His style mimics that of Nick Chubb and he is just as strong. Robinson bench presses 415lbs, Squats 630lbs and dead lifts 715lbs. He's coming Dawg fans. It's just a matter of time.
So, mark my words, Little Chubby might be the best Georgia running back RIGHT NOW.
And GEEZ……… I never even got to Oscar Delp, Bear Alexander, etc etc.
The future is bright in Athens…….GO DAWGS!