Georgia Offensive Coordinator Mike Bobo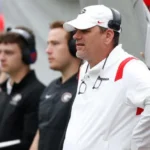 By: Kipp Branch
TheSouthernSportsEdition.com news services
Listed below is the best definition I could find of what a fair-weather fan is.
Fair Weather Fan: A fan of a sports team who only shows support when the team is doing well. Right now, the University of Georgia football program has more than its share of those who qualify for that title.
If you read anything UGA related on social media during the UGA/UT Martin game last weekend you would have thought UGA was getting blown out.
The main target was UGA offensive coordinator Mike Bobo. Apparently, the unemployed offensive coordinators on Facebook took out their frustrations on Bobo when UGA got off to a slow start last Saturday.
Once UGA picked up the offensive pace with 559 yards of total offense for the day, which included 400 yards through the air that did not seem to slow down the social media experts.
It didn't matter that the UGA offense put up 41 points with Carson Beck starting his first game at QB or the fact that UGA's top two running backs Daijun Edwards and Kendall Milton were limited due to injury.
Milton had limited carries and Edwards did not play. UT Martin stacked the box to take away the run, which resulted in UGA throwing the ball more.
Despite UT Martin loading up to stop the run UGA still managed 159 rushing yards. The UGA offense ended the day with 9 chunk plays with over 20 yards. By the way experts that is a fantastic stat.
Mike Bobo at UGA:
2001–2006: Georgia (QB)
2007–2014: Georgia (OC/QB)
2022:  Georgia Analyst Offense
2023: Georgia OC
Bobo developed successful quarterbacks like Matthew Stafford, DJ Shockley, Aaron Murray, and David Greene at UGA.
Aaron Murray still holds SEC passing records in for career yards and TD's. In 2012, Bobo was a finalist for the Broyles Award, given annually to the nation's top college football assistant coach.
Misconception #1: Mike Bobo was fired as offensive coordinator from the University of Georgia. That is a false statement. Mike Bobo was hired as Head Football coach for Colorado State University after the 2014 football season.
Mark Richt was fired by UGA after the 2015 football season. During the 2015 football season Brian Schottenheimer was the offensive coordinator for UGA. During Bobo's last year as OC UGA averaged 41.3 points per game. During Schottenheimer's only year as OC in 2015 UGA averaged 26.3 points per game.
Misconception #2: The notion that Mike Bobo's offense caused UGA to lose games during the Richt years. Look at 2014 when UGA lost to a bad 7-5 Florida team in Jacksonville.
UGA gave up 418 yards rushing to Florida. UGA lost 38-35 to South Carolina in 2014 and did not turn the ball over a single time that day. Prior to Kirby arriving the defense let UGA down countless times in big games.
It all boils down to this the 'fair weathered bunch' associate Mike Bobo with the failure to consistently win big games during the Mark Richt era at UGA.
What they need to understand is that Kirby Smart is running things now and they need to trust in Kirby and realize that offense was never a problem during the Richt years with Mike Bobo as OC.
I leave you with this question: Could the social media Offensive Coordinators name 5 starters for the 2023 Georgia Bulldogs?
If things are rolling, you'll see the fair weathered bunch in Jacksonville, Atlanta (SEC Championship), and college football playoff sites if UGA is winning big.
Let the Dawgs slip to 8-4 and you'll only see the die-hard Dawg fans in Orlando, Tampa, and Jacksonville for a Bowl game with no luster.
All programs have a fair weathered wine and cheese variety of fans that roll with you when things are good.
However, there is plenty of room on the red and black train. Everyone is welcome with one disclaimer. Please know what the hell you are talking about when you critique a proven offensive coordinator that can sneeze out more football knowledge than you the fair-weather fan can fathom.
In Kirby We Trust!