How Good Is Florida Gators Anthony Richardson?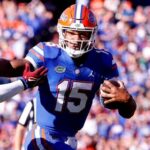 By: Robert Craft
TheSouthernSportsEdition.com news services
Anthony Richardson has a cannon for an arm! The Florida Gators quarterback showed it off Friday at the Manning Passing Academy.
Richardson is one of several elite college quarterbacks serving as a counselor for this year's camp at Nicholls State University in Louisiana from June 23-26.
Friday featured the "Air It Out" competition between the quarterbacks, and AR-15 stole the show. On his rep, Richardson did a three-step drop and then let it fly. From the 30-yard line, he effortlessly launched a deep ball that jumped off his hands and traveled over 70 yards in the air, drawing "oohs" and "ahhs" from the crowd.
"That was a long throw," Manning said in reaction to Richardson's bomb.
This weekend gives Richardson an opportunity to give back and learn from three legends, with NFL standouts Archie Manning, Peyton Manning and Eli all participating in their namesake event.
"Talking to the Manning's, I just want to soak up everything I can," Richardson said. "Be a better person, be a better quarterback, you know, just get as much knowledge as I can. And working with the younger guys, I just try to connect with them because I was once in their shoes. So just helping them and giving them advice on what to expect when things come up."
Anthony Richardson showed why he's considered as one of the more physically-gifted quarterbacks in college football. The rising redshirt sophomore wowed onlookers with his deep passes, effortlessly flicking the football around 70 yards downfield.
Richardson has huge hands and probably threw the tightest spiral we saw. His athleticism is well documented (he turned a backflip after connecting on one throw) but he has big-time arm talent as well. Richardson has a bit of a looping throwing motion that can be offset some by the velocity on his throws.
The Gainesville native flashed some tantalizing playmaking ability in 2021. He'll need to continue developing, but he could be primed for a breakout year; especially under new Florida head coach Billy Napier.
After serving as a backup for most of last season, Richardson is finally QB1 for the Gators following his stellar spring game. He threw for 207 yards and scored three total touchdowns.
More importantly, he looked comfortable in the new offense under first-year coach Billy Napier. Richardson studied former Louisiana QB Levi Lewis to get a feel for Napier's system.
"Watching some of their games from last year, even hearing about Coach Napier and then considering him, I started watching some of the games just to see what was going to happen," Richardson said this week. "And watching Levi play, that was their old quarterback, that put me in good hands because we have similar skill sets. I talked to coach Napier and coach Ryan O'Hara when they came in and they told me I was going to fit well in their offense. Then I went through spring, I think I do fit well in the offense, so we'll see how that goes."
Billy Napier will rely heavily on Richardson to lead his new program this fall. What he picks up in the passing game, especially at the event this weekend, will be crucial for the Gator's success this fall.