Mill Creek Hawks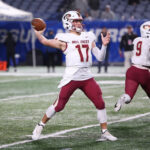 By: Kenneth Harrison
TheSouthernSportsEdition.com news services
The high school football season ended last weekend after the state championships were played. Let's take a look at the entertaining 7A game.
Mill Creek 70 – Carrollton 35: This was for the state's highest classification. Carrolton (14-1) was undefeated going into the game.
The Hawks (14-1) won their first state title in school history. Both teams are ranked nationally, Mill Creek is No. 18 and the Trojans are No. 26. The game was played in the fog and light rain at Georgia State's Center Parc Stadium.
This gave Gwinnett its third straight state champion in Class AAAAAAA. Their 70 points broke the state record for most points scored by one team in a state final, according to Georgia High School Football Daily records, besting the old mark of 62 set by Valdosta in 1971 and Warner Robins in 2020.
This game also set the championship record for most combined points scored in a game with 105. The previous record was set in 2013 when Griffin beat Carrollton 56 – 35 (91).
Junior running back Cam Robinson ran for 247 yards and three touchdowns. Mill Creek ran for a total of 410 and averaged 9.5yards per carry.
"It's not about me, it's about us," said Mill Creek's Josh Lovelady, a coach at the school since it opened in 2004, and head coach the past four seasons. "What I mean by us is it isn't just about the players here and the coaches here. A lot of coaches and a lot of alumni. I had people from all over the United States, 'We've got you, coach.' They understand what this program is about. It's a foundation, building bricks. It came to that point but it took a lot of work by a lot of people from the Touchdown Club to the players to the administration."
Mill Creek's lone loss came to Buford, who was ranked No.1 and undefeated during the regular season.
The Hawks were dominant in the postseason and beat their first four playoff opponents so thoroughly the mercy rule with the running clock was used.
"I'm just so proud. Some unbelievable hours by our coaches. It's a wonderful feeling. It's wonderful because we did it the right way. I know it's just my opinion, but by golly, we did it the right way with our kids. I've got so many youth pictures of our kids in little Hawk baggy uniforms, all those guys that played together at 10 years old and now they're here. That's what makes it so special."
Carrollton hadn't allowed more than 28 points in a game all season. The Trojans never got the deficit to single digits after the first quarter despite 529 yards and five touchdowns from freshman quarterback Julian Lewis. The Hawks finished with 601 yards of offense.
"It's a great feeling. It's a blessing to be able to be here and win it," Mill Creek senior linebacker/tight end Jamal Anderson said. "Obviously, it's a lot of emotion going through my body right now. I've been with the Mill Creek Hawks for what, 10, 11 years since I was 6 years old. It's great. It's great to get a win for the coaching staff. I know a lot of these guys haven't been here yet to win one. So, it's been a great time, great experiences with this team."
A wild first half had Mill Creek with TDs that covered 66, 88, 96 and 80 yards, while Carrollton scored on two 80-yard passes.