62-7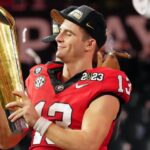 By: Kenneth Harrison
TheSouthernSportsEdition.com news services
Going into the national championship game I thought UGA winning was a slam dunk.
I thought they were forty points better than TCU. I was surprised to see people like Stephen A Smith and Robert Griffin III picking the Horned Frogs to win. They pointed out how they only had one five-star recruit and one four-star on the roster.
It turns out I underestimated the Bulldogs. No. 1 Georgia (15 – 0) demolished No. 3 Texas Christian University (13 – 2) 65 – 7. It was a beat down from the opening kickoff.
Starting quarterback Stetson Bennett IV was taken out of the game with 13:25 left in the fourth quarter. Kirby Smart called a timeout so he could walk off the field for the last time.
Bennett accounted for six touchdowns, four passing and two rushing. He completed 18/25 passes for 304 yards and rushed for 39 yards.
"As simple as it is, just one last huddle with the guys," said Bennett, who finished with a 29-3 career record as Georgia's starter. "That was special, coming off and seeing Coach Smart. That was really cool, and I appreciate that."
"First time he's ever walked off that I was hugging him," Smart said with a smile.
The defense played great, recording 5 sacks. They also recorded three turnovers. They recovered a fumble and had two interceptions. TCU quarterback Max Duggan was also a Heisman finalist like Stetson Bennett, but he struggled.
The Horned Frogs did score their lone touchdown in the first quarter to make the score 10 – 7. They very briefly made it look like they could compete with the Bulldogs. Both of Duggan's interceptions came in the first half and led to UGA scores.
He threw his second pick with 36 seconds left in the half. Two plays later Bennett threw another touchdown pass to make the halftime lead 38 – 7. It was the largest halftime lead in a national championship game since the 2002 BCS title game when Miami lead Nebraska 34 – 0.
Georgia won their first national title in 41 years last season. Now they've repeated as national champs, making them the first team in the College Football Playoff era to accomplish that.
TCU was 5 – 7 last season, which lead to them hiring head coach Sonny Dykes from SMU.
"We'll learn from it," Dykes said, "and next time we're on a stage like this, we'll handle it better."
Last season's championship team had five first-round NFL draft picks.
"If the team last year played this year's team, last year's team probably had more talent on it," Smart said, "but this year's team was different. They just had this eye of the tiger; they weren't going to lose."
Georgia dominated on the ground, rushing 44 times for 254 and five TD's. Kenny McIntosh was the leading rusher with 8 carries for 50 yards. Branson Robinson had 7 carries for 42 yards and two scores.
Sophomore tight end Brock Bowers won the John Mackey Award this year for the nation's best tight end. He played great in this game, recording 7 catches for 152 yards and a score.
Ladd McConkey also had a big night with 5 receptions, 88 yards and 2 touchdowns.
Dykes compared Bowers to a tight end he coached while he was the offensive coordinator at Arizona. That guy was named Rob Gronkowski.