Brunswick High Pirates 2021 Spring Preview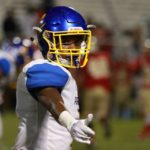 By: Kipp Branch
TheSouthernSportsEdition.com news services
Sean Pender is excited about his 2021 football team this fall. "We are a talented football team, and we as coaches are excited to see how the talent develops. We have the potential to be a very good football team this fall".
The head Pirate does have to replace 14 starters off of an 8-4 team from 2020 that won a share of the region championship, and a state playoff game. "We do have some holes to fill this year, but we played a lot of young kids last year that will move into starter slots this fall, but I love the work ethic of this football team. This team wants to be very good, and they are putting in the work to support that statement."
Let's take a look at position groups:
QB: Senior Jeffery Waye and Junior Jayden Drayton are locked into a battle at the QB position.
Pender says "if the season started tomorrow both would see playing time at the position".
Waye was the back-up QB in 2020 and his coach says he has been very impressed with how he is progressing at the position.
Drayton, who transferred over from Glynn Academy, has put on almost 10 pounds of muscle in the winter conditioning program and is learning the new system at BHS.
His coach says "This kid will be recruited as an athlete and he will wear a lot of hats for us this fall. He will play some QB, WR, DB, and he will return kicks for us".
OL: Kanaya Charlton will move to LT this fall and Pender says "Kanaya Charlton is as good as we've had here and that says a lot".
Charlton at 6'7 and 330 pounds can play anywhere he wants at the next level. Offers are pouring in.
Jaquan Gibson returns as a starter at guard. Jamal Meriweather, AJ Anderson, Eli Smith, Lester Clark, Matthew Moore, William McDonald, Chris Wineski, and Jonathan Welson will battle for playing time, but depth at the position group is great.
WR: The position is very deep in talent, Kevin Thomas and Pat Leggett are playmakers. J 'Maun Weldon, Zeb Jackson, Terry Mitchell, Na'verious Williams, TJ Smith, Trey Elvine, and Jayden Drayton will all see targets in 2021. "We are deep and talented and will cause issues in space with this group" says Pender.
DL: Kayshawn Thomas will be back for his junior season with an SEC offer from South Carolina.
Thomas will lead a group that consists of River Creel, Jordan Jimerson, Jameer Lang, Jamal Meriweather, Anthony Bautista, and Matthew Moore. Pender says "#99 Thomas can be as good as he wants to be and will be a force in the middle"
LB: Pirates must replace 4 starters from last fall, but were 7 deep at the position last year.
Staffon Stanley, Adam Mweemba, and Lionel Twiity all started games last year at the position.
A name to watch could be Gerald Quick, who has the frame to be outstanding player at the position.
DB: Pender says "We are stacked 8-9 deep at DB".
Jayden Drayton was All-Region in 2020. Derrick Smith and Keon Leggett were big contributors last fall. Ivan Johnson returns at safety. Na'verious Williams was a starter at Glynn last fall before transferring.
Other names to watch JaShawn Wilson, Tyler Sams, and Zeb Jackson, and Gerald Quick.
Anthony Elvine returns as punter, and McClain Fineran will handle PAT/FG's.
Finally, the "Wolfpack" also known as the RB group.
Ree Simmons and Kobe Hill have both had seasons with over 1,000 yards rushing.
Hill in 2019, and Simmons in 2020. Barring injury this duo will finish their Pirate careers with over 5000 combined rushing yards.
Pender says "These guys are leaders and hate to lose and that mentality has taken root on this football team".
Leon Charlton returns, Taivon Gadson, and Neshiek Cohen add depth. Embarrassment of riches at this position.
Spring Practice starts on May 4th and ends with the Blue and Gold Spring game on May 20th.
2021 could be special on Altama Avenue. #AllAboutTheFamily at BHS.