Brunswick High Pirates Coach Garrett Grady Wins Coach Of The Year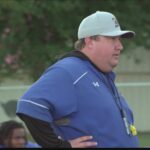 By: Kipp Branch
TheSouthernSportsEdition.com news services
Brunswick High Pirates Head Coach Garrett Grady was named Region 2-AAAAAA Coach of the Year.
Grady guided the Pirates to a 10-1 record in his first year as a head coach.
Since Grady was named the Head Coach back in February, he has had the Midas touch on everything concerning Brunswick High football.
Grady came to BHS in 2017 as part of Sean Pender's staff, serving as Offensive Coordinator.
The Superintendent of the Glynn County School System Dr. Scott Spence had this to say about Coach Grady:
"It is rare for a large high school to hire a head coach that is already on staff. The hiring of Coach Grady at BHS was one of the easiest decisions I have ever made, and it seems to be turning out just fine. With Coach Grady it is more about developing the whole student athlete rather than just winning football games. Coach Grady cares about the 'now' with his kids and will most definitely be there for them in the future. On behalf of the entire school system, I congratulate Coach Grady on this well-deserved honor"
Garrett Grady graduated in 2006 from Pierce County High School in Blackshear, GA.
Once he graduated, he attended Valdosta State University, where he continued his football career.
At VSU he earned his Master's in Public Administration and his Bachelor's in Arts (History).
Grady began coaching in 2010 as a student assistant with Valdosta State's Offensive Line and moved into the Offensive Line Graduate Assistant position the following year.
He was promoted to Running Back's Coach in 2012 and successfully coached the group of running backs during Valdosta State's 2012 National Championship season.
He spent three years on the VSU coaching staff before he returned to Pierce County High in 2013.
Grady spent four years at PCHS where he was the Running Backs Coach (2013, 2014) & Offensive Coordinator/Offensive Line Coach (2015, 2016).
Coach Grady is entering his 6th year at Brunswick High and his 1st year as the Head Football Coach. He has served as the Offensive Coordinator/Offensive Line Coach since 2017.
Grady commented on being named the Region COY:
"I am honored to be named Region 2-AAAAAA Coach of the Year. This is a great testament of what our program is all about-All About the Family. I would like to say thank you to the administration, coaching staff & coaches' families, players, & community, because without each one of you our success is not possible. I would like to say a special Thank You to my wife, Erica Grady, for supporting me throughout my career and the sacrifices you make, I know it is not easy being a coach's wife. I look forward to building upon our positive culture and family atmosphere here at Brunswick High School."
The Pirate Ship is in good hands for the foreseeable future.