Cade Klubnik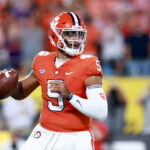 By: Kenneth Harrison
TheSouthernSportsEdition.com news services
Dabo Swinney has elevated Clemson into one of the most elite programs in the nation.
The Tigers seemed to make the College Football Playoff every season. After quarterback Trevor Lawrence was drafted #1 in the 2021 NFL Draft, we still thought they would be a top-5 team.
He was replaced by five-star QB D.J. Uiagalelei. The Tigers recruit so well they just reload rather than rebuild. Unfortunately, that was not the case last year. They were 10 – 3 but that's not good enough for Clemson.
Uiagalelei is coming off a sophomore season that saw him rank at or near the bottom of most statistical categories in the ACC, throwing more interceptions (10) than touchdown passes (9). It was a season that saw the quarterback have his share of struggles, most notably with accuracy, as Uiagalelei completed just 56% of his passes.
D.J. has lost weight since last season and hopefully that will help him move quicker. The Spring Game was April 9th so we did see some improvement on his footwork, decision making and releasing the ball quicker.
He still had issues with his accuracy, throwing several off-target passes. He completed 17-of-36 passes for 175 yards and an interception. To be fair, there were multiple dropped passes.
The five-star freshman from Texas, Cade Klubnik completed 15-of-23 passes for 106 yards and a touchdown. Klubnik was ranked the number one quarterback in the country in the last recruiting cycle.
"DJ is definitely our starter," Swinney said. "He has had a great spring. He has not done anything to not be the starter."
It might be unfair to believe D.J. would drastically improve after 15 practices. He also played behind an offensive line that was missing several starters in the Spring Game. Clemson has a talented defensive line, so they had a tough time.
This does look like a possible quarterback controversy brewing once the season starts. Swinney does feel like he can win with both quarterbacks.
"It is not often you can say that, but I have seen enough from both of those guys to know that," Swinney said. "So, it is a good situation."
Running back Will Shipley was really the only bright spot on offense last season. He rushed for 739 yards, 11 touchdowns and averaged 5 yards per carry. He also had 16 catches for 116 yards. Shipley and the number 2 back Kobe Pace had offseason procedures, so they did not play in the Spring Game.
The only other scholarship running back on the roster was Phil Mafah from Grayson (GA).
"I thought it would allow me to just show that I could be the guy out there," Mafah said. "I could do it just like they could, and they just allowed me to show off what I could do and help bring up the others."
Position coach C.J. Spiller and offensive coordinator Brandon Streeter said Mafah has earned more carries for the 2022 season. Now it looks like the Tigers will have three reliable backs next season.
The final score of the Spring Game was White beat Orange 15 – 7.