Clay Helton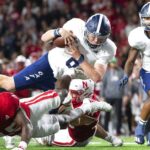 By: Joe Delaney
TheSouthernSportsEdition.com news services
WOW………. Almost a million and half is how much The University of Nebraska paid Georgia Southern University to come be a sacrificial lamb of a football team in Memorial Stadium in Lincoln Nebraska.
Well, I don't know if they have Eagles in Nebraska but I can tell you the Cornhuskers don't want to see the birds from Statesboro again, ANY time soon.
Georgia Southern football took a giant step forward by handing the Cornhuskers a shocking home loss 45-42 earlier in the month.
How shocking? After the game Cornhusker Coach Scott Frost said "we can't let this divide us" ………. The next morning, he was no longer the coach.  And the school paid him 15 million to leave!
While this Nebraska team might not be feared in college football the way they were in the past. They were prohibitive three touchdown favorites.
I guess everyone wants to know how many yards the Southern option attack rolled up right?  Uhhhhhhh, those days are long gone sports fans. Behind the revamped offense of Clay Helton and the play of QB Kyle Vantrease the Eagles rolled up SIX HUNRED and FORTY TWO yards against the BIG 10 school.
Vantrease, who I wrote about in the season preview was spectacular. He was 37 of 56 for 409 yards and scored the winning touchdown on an 8-yard run with 36 seconds left.
Southern had a great all-around effort on offense with Gerald Green running for 132 yards on only 10 carries and 2 scores and Jalen White added another 85 yards and 2 TDs.
Derwin Burgess led the potent Eagle receiving corp with 12 catches for 119 yards. While the Eagle defense had to fight the bigger Cornhuskers all day and gave up a lot of yards and points, they held at the end and forced a 52-yard field goal attempt that went wide left. The party was on in Statesboro and the visitor's locker room at Memorial Stadium.
Kudos have to go out to the job Clay Helton has done in a very short period of time at Georgia Southern. That's a BIG 10 school that the Eagles just took down ON THE ROAD.
First is not the fact that they beat Nebraska……. The deal is they were just better. Nebraska had no answer for the Eagles offense. GSU, actually led most of the game in Lincoln.
It seems that the Eagles have gotten themselves a very good head coach. Clay Helton has coached at the highest level of college football.  Many wondered how he would adjust to the smaller school, smaller budgets and small-town atmosphere of Statesboro, as opposed to the glam of Los Angeles.
Well to see him on the sidelines at the end of the game Saturday you woulda thought that this guy is all in. I did.
It's a long season and there will be ups and downs for this Eagle team for sure. They face a tough schedule ahead. In my preview of the Eagles last month, I said that after last year's debacle the Eagle nation needed to have some patience with this squad. I think that still holds true………. but WOW! Just WOW!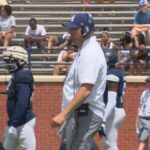 By: Joe Delaney
TheSouthernSportsEdition.com news services
So many question marks as the Georgia Southern Eagles begin the 2022 season.
With a new coach, a new staff and a revamped offense and defense, these guys may take some time to learn their true identity.
Take into account a very tough schedule that is not going to be conducive to a learning curve and the word in Statesboro may be PATIENCE in 2022.
This team will look like the 21 outfit in uniforms only as Clay Helton will bring a more balanced attack to the Eagles. Coming from the west coast and USC [yeah, THAT USC], Helton will look to mix it up with offensive coordinator Bryan Ellis calling the shots.
It looks like the Eagles will turn to a transfer with experience and RPO ability in Kyle Vantrease at QB. He brings a wealth of experience after transferring from Buffalo. A 6th year graduate transfer, Vantrease started 26 games and threw for 4400 yards and 23 touchdowns with a 61% passing percentage and also rushed for 13 touchdowns. Keeping him healthy will be crucial to success.
The Eagles are well stocked at running back with Gerald Green and Jalen White leading the way. Between the two, they rushed for 9 touchdowns last year. There is depth also at RB.
Receivers are untested and will need to step up to take the strain off teams loading the box on them. One answer to this will be returning tight end Beau Johnson. The 6' 1" 225lb returning starter should get a lot of looks from Vantrease.
Southern does return 4 of 5 on the o-line and as I type this, they are probably working on pass protection! This should be a good group led by tackle Brian Miller. If they can make the transition from an option attack to a balanced offense, this could be a much more explosive offense moving forward. And that is Clay Helton's plan.
Kicking and punting should be in capable hands with Alex Raynor back for PATs and FGs and Anthony Beck back at punter. Beck is a good one, averaging 45yds per punt. He punted 64 times last year. Helton and company will hope to reduce that number this year
Defensively, the Eagles have got a lot of work to do. They gave up 31.4 points and 289.5 yards thru the air last year and return only 4 starters off that outfit.
Look for them to improve on this as much of the secondary returns and will be led by safety Anthony Wilson.  He led the team in tackles.
Other returners include stud Justin Ellis at DE, Dillon Springer at DE and Justin Birdsong at DB. Most of the new starters have seen a lot of action and this will be a veteran defense with 7 seniors and 4 juniors. They just have got to step up.  New defensive coordinator Will Harris has a lot to work with.
The schedule is not going to do the Eagles any favors. A September date with the Nebraska Cornhuskers followed by a trip to UAB, then Ball State and at Coastal Carolina………. that's gonna be tough.
Throw in Georgia State, Louisiana, Marshall, and App State and a break-even scenario starts looking plausible.
Georgia Southern is a great school with a great football tradition. It is moving in the right direction with Clay Helton. It just may take a little while to get there.
Look for the Eagles to be competitive and definitely improve on the 3-9 debacle of last year. If the defense can come on and Vantrease has a great year, the Eagles could surprise a lot of people.
Look for the Eagles to take a big step back to respectability this year and start laying a foundation for the future.