Frederica Academy Knight's Jordan Triplett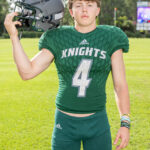 By: Jeff Doke
TheSouthernSportsEdition.com news services
It has been said that you won't get recruited to play college ball if you play at a small private school with less than 400 students.
Jordan Triplett's texts at 12:01am on September 1st would say otherwise.
"We had been sending out stats and video clips for years, knowing that no one could reply," says the Junior phenom running back from Frederica Academy. "At the end of last year, I was really wondering if anyone was watching. (Frederica Head Coach) Brandon Derrick just said to be patient. When midnight on Sept 1st hit, it exploded. It was such a relief."
"Coach Derrick just said 'told ya so.'"
Nicknamed "The River," the Class of 2024 offensive star of the Knights has been putting up staggering numbers since his freshman year. Thrust into the starting role in the fourth game of the year, he never looked back.
In his first start against Brantley County, Triplett put up a staggering 163 yards on 26 carries. By the time the year was over, Jordan was the #1 RB in the nation for his graduating class.
"All this time, I knew I was putting up the numbers but I wondered what I was missing?"
It seems all he was missing was time. September 1st was the first day that college coaches could reach out to high school juniors in regards to recruiting. As soon as the clock hit midnight, Triplett had a good idea his work was going to pay off.
"The first message that came at midnight was from Mercer," says his father, Mark Triplett. "Then came Princeton, then Dartmouth. Florida Atlantic invited him to Junior Day & their invite only camp. The next morning there were a dozen schools in just the first day."
As of three weeks later, a total of 15 schools have reached out, including Georgia Southern, Vanderbilt in the SEC, Iowa State in the Big 12, UConn from the AAC, and a laundry list of Ivy League & service academy squads; Princeton, Harvard, Dartmouth, Penn, Air Force, and Army.
Of the schools that have reached out so far, Jordan, his dad, and his mom all have their favorites (although they won't be revealed here).
"Yes, I have a preference, but honestly I don't think past the scholarships," according to his mom Becky, a teacher at Frederica Academy. "Jordan wants to play, and mom doesn't want to have to pay for it if she doesn't have to," she said with a smile.
The Ivy League schools aren't a stretch for Jordan. He currently has a 4.2 GPA with a full load of AP classes.
"I've got to give that credit to mom and dad. We knew I wasn't going to be the fastest or the biggest, but they knew that if I was a little good at football but had the academics, I'd have a chance to go play at the next level at some of the finest schools in the country."
His father has been not only his biggest supporter and chauffeur, but his social media hype man as well.
"I've been doing this for a while," says Mark. "Frederica has a small staff, no designated recruiter like some schools. I was really excited that over the last year that we sent out all these questionnaires and film, not knowing what they think about it since they couldn't reach out. Then on the first day to finally hear from 12-15 teams that did like it, it was confirmation."
Jordan obviously appreciates the effort.
"It's funny, when I heard from Iowa State, I was like 'how did THEY hear about me?' and Dad said 'I filled out a recruiting questionnaire.' I said 'when?' He said 'Ninth grade.'"
Jordan does have an as-of-yet unnamed dream school. They've made no official contact with him, but they have spoken to Coach Derrick about coming to a game.
The final goal is, of course, setting himself up for a chance at the NFL.
"I remember sitting in my bed in Montana with my six Cam Newton FatHeads, telling mom I was going to play in the NFL while jumping into a Carolina Panthers bean bag. I've always had that dream. Mom and Dad have driven me to all these camps, spent all that registration money. I'm going to have to eventually mow the lawn a lot."
If the next six years go as planned, he'll be able to buy them a new house to go with that lawn.