Garrett Riley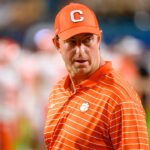 By: Garrison Ryfun
TheSouthernSportsEdition.com news services
At the end of the 2022 season, things seemed to be trending downward for the Clemson Tigers. After a 31-14 Orange Bowl loss to Tennessee, which never looked all that competitive, there were real questions about the future of the program.
The beginning of this perceived decline started with the 2020 season when Jeff Scott, one of Dabo's Co-Offensive Coordinators, took the head coaching job at the University of South Florida.
This move helped Tony Elliot become the singular Offensive Coordinator for the 2020 and 2021 seasons.
Going into the 2022 season, Dabo lost both his stalwart defensive coordinator in Brent Venables and offensive coordinator, Tony Elliot to head coaching vacancies at Oklahoma and Virginia respectively.
Instead of going out and hiring big name coordinators, Dabo decided to try to keep continuity within the program and promoted from within for both positions; promoting Brandon Streeter from Passing Game Coordinator/Quarterbacks Coach to the Offensive Coordinator/Quarterbacks Coach role, and on the defensive side promoting Wes Goodwin to Defensive Coordinator/Linebackers and Mickey Conn to Co-Defensive Coordinator/Safeties.
In terms of total offense, Streeters coordinating would be seen as an improvement over Tony Elliot's 2021 efforts, as Clemson went from the 99th total offense to the 48th in 2022.
Though Streeter did seem to help elevate the offense from season to season, 48th in the country is still well below the standard for a Clemson offense in the modern era.
The blame for their offensive struggles, perception wise, ultimately rested on Streeter's scheme, which was similar to Elliot's and Scott's.
Firing Streeter was not an easy move for Dabo to make. He was a former player at the university and was a longtime assistant under Dabo, coaching at the school for six years before he became the offensive coordinator.
He also was a big part of the success Clemson had at quarterback, helping to develop Deshaun Watson and recruit and develop Trevor Lawrence. The two quarterbacks who led Clemson to national titles in 2016 and 2018.
The firing of Brandon Streeter meant that Clemson had to hit on a big-time candidate for the offensive coordinator position. Enter TCU offensive coordinator Garrett Riley and former Clemson offensive coordinator Jeff Scott.
In Garrett Riley's three years of being an offensive coordinator, he has never been outside of the top 15 in points per game and has only been outside of the top 15 once for total offense.
Even in the context of an embarrassing 65-7 loss against Georgia, the problem for Riley's offense was not the scheme.
Now entering Clemson, Riley has a better talent pool to work with that can match a more physical SEC team if they make the playoffs.
Riley will have a chance to not only coach better talent, but also recruit better talent at Clemson.
In a time when some were starting to perceive Dabo as losing his edge, he made an important move that changed the trajectory of the program before it was too late.
The move of bringing in Garrett Riley is an important one, but bringing in Jeff Scott to learn underneath him is the more underrated aspect of this whole deal.
This is Dabo positioning himself to not only revolutionize his offense, but be able to keep continuity on that front when Riley eventually takes a head coaching position elsewhere.
This kind of move is one that Clemson needed going into a divisonless 2023 in the ACC, with a rising Florida State team, and others, trying to knock them off their throne.