Georgia State Panthers Make NCAA Tournament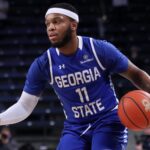 By: Kenneth Harrison
TheSouthernSportsEdition.com news services
The NCAA Tournament starts this week. Everybody loves filling out brackets and watching the upsets take place for March Madness.
We have an unlikely team representing the state of Georgia in the men's tournament.
Familiar faces like Georgia and Georgia Tech did not make it. Georgia State is the team that made it. The Panthers (18 – 10) won the Sun Belt Conference championship to get there.
Senior Corey Allen led them on this improbable run. He scored 29 points to match his season high for the second straight game in the championship win over Louisiana, 80 – 71 at the Pensacola Bay Center. Allen was named the MVP of the Sun Belt Tournament.
It was the 10th straight win for Georgia State and its 12th win in the last 13 games.
Georgia State won the Sun Belt Tournament for the fourth time and will make its sixth trip to the NCAAs. It also served as redemption for losing to Appalachian State in last year's title game. This is their first trip to the NCAA Tournament since 2019.
"It's special because the experience we had last year I think led to these guys' desire to return," Georgia State coach Rob Lanier said. "And they were motivated to be here and do this."
Allen was one of four seniors who decided to return for a COVID season. The others – Eliel Nsoseme, Kane Williams and Justin Roberts – were each big contributors to the championship and enjoyed the enthusiastic postgame celebrations.
"There's a lot of adjectives we could use, but it's a special moment and I wouldn't want to share it with anybody else," Williams said.
It was a satisfying finish for Lanier, who was able to hold the team together despite losing five games to COVID and enduring an 0-4 start in conference play.
" All that disruption affected our chemistry, our rotation, and we were one of the worst defensive teams in the country on top of our bad offense," Lanier said. "We really figured it out defensively, and we felt like we could get back to our old selves offensively and put the two together. It happened the last few nights, as simple as that."
All of the teams have been selected Sunday so we know who GSU will play. They are the No. 16 seed in the West and they play No. 1 Gonzaga Thursday in Portland. Gonzaga finished the season as the top team in the AP Poll.
The Bulldogs lost the National Championship game last season so they are focused on winning it this season.
This is a David vs. Goliath matchup. In the history of the NCAA Tournament a 16 seed has only beaten a 1 seed once. That happened in 2018 when the top overall seed Virginia lost University of Maryland Baltimore County (UMBC), 74 – 54.
Clearly, the odds are stacked against Georgia State and they are expected to be crushed by Gonzaga. They probably will be blown out but it is impressive that they made it to the tournament. As an underdog, they should have several fans cheering for them.

By: Kenneth Harrison Jr.
TheSouthernSportsEdition.com news services
When you think major college basketball in my home state Georgia Tech and Georgia come to mind.
Both of those programs did not do well this season and they are not playing in the NCAA Tournament. Surprisingly, the only team from the Peach State in the Big Dance is Georgia State.
Head coach Ron Hunter led the Panthers to the tournament two previous times in 2015 and 2018. In 2015 as a No. 14 seed they upset No. 3 Baylor. They have tournament experience, so they should not be intimidated.
The Panthers finished 24-9. They are a very balanced team with five players that average double figures. Junior guard D'Marcus Simonds is the leading scorer with 18.4 points per game. He also averages 5 rebounds per game and 4 assists.
Senior forward Malik Benlevi leads the team in rebounds with 6 rpg. The Savannah native also averages 12 ppg. Senior guard and Alabama transfer Devin Mitchell also averages 12 ppg.
Sophomore guard Kane Williams and senior forward Jeff Thomas both average 11 ppg. Thomas is the only starter that's not from Georgia.
The Panthers played two SEC teams and beat both of them. They trounced Georgia in the Cayman Islands Classic 91-67. They defeated Alabama on the road 83-80.
GSU got to the tournament by winning the Sun Belt Conference tournament. Their conference record was 13-5 so they finished the regular season with the best record.
There were some upsets in the Sun Belt tournament so they played UT Arlington in the championship game. The Mavericks finished fourth in conference play but their overall record is only 17-16.
Georgia State won the game 73-64. UTA went on an 8-0 run in the second half, cutting Georgia State's lead to 64-60 with less than two minutes to play.
Junior guard Damon Wilson broke up the run with two free throws, and Williams extended the lead back to eight with another two free throws. UTA missed multiple 3's in an attempt to come back, and with 56 seconds left, Simonds converted a free throw to make it a 10-point game.
"We weren't the greatest free throw shooting, and I couldn't understand it because we shoot the ball so well," said Georgia State coach Ron Hunter. "But we have been great at the end of the game with five minutes left. With five minutes left in the game we've been tremendous free throw shooters."
"I knew when we get it inside five we were pretty locked in at that particular time, and that's when you have to make them."
The Panthers are the No. 14 seed in the Midwest region. They will play No. 3 seed Houston (31-3) in the first round. The Cougars had a great season and finished the regular season in first place in the AAC. They lost the conference tournament championship to Cincinnati.
They are led by head coach Kelvin Sampson, who previously coached at Oklahoma and Indiana.
I think that there is a very good chance of GSU pulling an upset. I thought Houston was an elite team prior to losing to Cincy. I think they may have been exposed in that game.
The game is Friday March 22nd at 7:20 pm. We will see how it plays out.