Glynn Academy Red Terrors 2021 Preview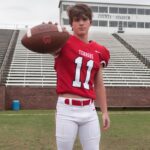 By: Jeff Doke
TheSouthernSportsEdition.com news services
The Glynn Academy Red Terrors finished the 2020 season on a down note.
After a lopsided home loss to Langston Hughes in the 2nd round of the GHSA Playoffs, Terrors Head Coach Rocky Hidalgo had some rather pointed words to some unnamed players and parents.
Seven months later, Coach Hidalgo feels much more positive about his team.
"This is a different football team than what we had last year," according to Coach Hidalgo. "These kids have been great to work with. We don't have a lot of the issues that we dealt with last year. "Last year, I was frustrated because I felt like there were some people pulling us in opposite directions from where we needed to go. I think we got some of that stuff corrected. Our kids and parents are ready to go."
One of those "ready to go" players in particular is newly minted starting Quarterback Tyler Devlin.
"(Tyler) is going to be really good," beams the Head Coach. "I think when the dust has settled, he looks like he's going to be a really special player at Glynn Academy. He has the bearing of a leader, leading by example."
The rising Junior's targets look to be in good shape as well. WR David Prince is "going to be a really good player" per Coach Hidalgo, but he won't be the only one.
"Tyson Rooks coming over from the basketball team has a chance to be really special, and Jordan Johnson & Daniel Smiley both had a really good offseason."
As a coach who has a reputation as a "run first" coach, Coach Hidalgo seems to be leaning towards a committee approach at RB this season.
"We feel like John Moody did some good things for us last year, same thing for Zech Ellis. Jackson Wakeland (who took a year off to focus on wrestling) is back and is really going to help us in the backfield."
Coach Rock doesn't seem concerned about the apparent lack of an obvious RB1.
"I like our running backs," he said without hesitation.  "I don't think we really have a bellcow like we've had in the past, but we have some good solid players in the backfield."
On the defensive side, the biggest question seems to be in the Linebacker stable.
"We've got kids right now that are competing for playing time at MLB," replied the Coach when asked about Da'Vontae Lang. "(Da'Vontae) is one of them, and he's got a chance to be really, really good, but you could say the same for Colin Fox, Eriq Cash, Peyton Parker, and Cab Cabiness. We just have to see who's going to step up & win those jobs."
There's somewhat less concern in the defensive backfield, but still room for development.
"We feel good about our Cornerback situation. Tate Rhodes & Kannum Warren played a bunch for us last year at Safety, we feel like we need to develop some depth.
JT Givens and DJ Riley will have a chance to get out on the field and do some good things. I feel good about everything but our depth."
On Special Teams, "there's going to be some competition with the Field Goal kicking role," speculates the Coach.
"Jonathan Sasser is really accurate, whereas Kody Arnold has a really big leg. We like both of those guys, but we have some young kickers that are really good, too. There's going to be some competition."
Coach Hidalgo has set some pretty high expectations in his career at Glynn Academy, and those high expectations are ones he welcomes.
"If the expectation isn't to win the region championship and win the state championship, what do you do this for? Our goal is to go out and win a region championship every year. We've been fortunate enough to do that five of the seven years I've been here. Our plan is to go out & do that again this year."