Glynn Academy Red Terrors 2022 Preview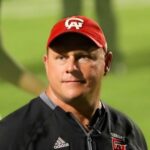 By: Jeff Doke
TheSouthernSportsEdition.com news services
It wouldn't be too much of a stretch to call Glynn Academy's 2021 football season underwhelming. Coach Rocky Hidalgo is out to change that.
Last year got off to a baffling start in the form of a 14-point tie to our northern neighbors in McIntosh, the MCA Buccaneers.
That was quickly followed by a shellacking at the hands of our southern neighbors from Camden, the Camden County Wildcats.
Compile that with an overtime loss to the Brunswick High Pirates in the City Championship Game, and it's pretty obvious the season never fully got on track.
The Terrors followed up a pedestrian 4-5-1 regular season with an early playoff exit, losing in the first round to Langston Hughes on the road 42-14.
Flip the calendar forward eight months, and Big Red seems to be ready to turn the page and get back to basics. Local football afficionados have noticed a more hands-on approach from Coach Hidalgo this offseason and hints of a more "in-the-trenches/wing-T" style of play on offense.
That should prove to play to the strengths of his returning offensive stars. Rising Senior QB Tyler Devlin developed a solid rapport with receiver David Prince last year and looks to build upon that in the coming season.
The Terrors look to be sturdy up front with big guys John McCleod and Jack Hunt leading the line & opening some big holes for the multifaceted sophomore RB Greg Peacock.
On defense, familiar names like William Tankersley, D.J. Riley, J.T. Gibbons, and Hugh Edgy will be filling in the gaps left by last years' graduating class. All in all, the 2022 season looks to be much more satisfactory for Terror Nation.
Here's how we see Glynn's season unfolding:
WEEK 1 – @Statesboro – It's tough to pick when you have two teams trying to rebound from a disappointing season. We'll go with the Terrors over the Devils in a close one on the road, 21-17.
WEEK 2 – vs. MCA – That draw from last year still stings. Hidalgo & company will make sure that outcome isn't anywhere close this time around. Glynn wins big, 49-9.
WEEK 3 – @Camden – Last year's drubbing had folks wondering if the Wildcats really were back or not. No more of the same this year, Glynn flips the script in a shootout 51-45.
WEEK 4 – vs. Creekside – A tough non-region opponent in a tough spot on the schedule. The Knights hand Glynn their first loss on the year 35-21.
WEEK 5 – CITY CHAMPIONSHIP vs. Brunswick – As a Pirate alum it pains me to say this, but I fear the streak for the Blue & Gold ends here. Coach Rock hoists the trophy once more, 31-28 (OT).
WEEK 6 – vs. Effingham – Glynn always seems to lose one game a year they have no business losing. This one seems as good a candidate as any. Terrors still feeling hungover from the victory over BHS put up an uninspiring effort in a 17-3 loss.
WEEK 7 – @South Effingham – The boys in red get back on track and avoid going "Oh-for-Eff," breaking the Mustangs bigly 56-14.
WEEK 8 – vs. Grovetown – The first of three home games against new region opponents to end the season sees the Terrors notch their first shutout of the season, embarrassing the Warriors 34-0.
WEEK 9 – vs. Evans – All cylinders will be firing as the regular season winds down, but the Terrors let this one slip by. Glynn falls in a close one 24-21.
WEEK 10 – vs. Lakeside – Coach Rock fixes the issues from the week before and sends the Terrors to the playoffs riding high. Terrors over Panthers by a decisive 42-14 score.
FINAL RECORD – 7-3, 2nd place in the Region, playoff bound.