Great Games Between Georgia Bulldogs and Florida Gators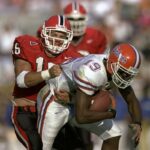 By: Kenneth Harrison
TheSouthernSportsEdition.com news services
The Georgia-Florida rivalry dates back over 100 years.
If you ask Georgia the first meeting was in 1904. If you ask Florida the first game was in 1915. They have played every season since 1926, with the exception of a World War II interruption in 1943.
The game has been held in Jacksonville since 1933. It's one of the few neutral site rivalry games in college football. Let's take a look at some of the best games in the series history.
1966: #7 Florida was 7 – 0 entering the game. Quarterback Steve Spurrier went on to win the Heisman Trophy and Walter Camp Trophy this season but he couldn't beat Georgia.
The Bulldog defense forced him to throw three interceptions and won the game 27 – 10.
All-American defensive tackle Bill Stanfill said: "Holding pigs for my dad to castrate was quite a challenge. I can't say that helped prepare me for football, but it sure did remind me an awful lot of sacking Steve Spurrier."
This game defined the rivalry years later when Spurrier became the head coach of his alma mater in 1990. He emphasized the Georgia game as "the biggest of the year" and his players responded well to that.
2002: Since 1990 Florida only lost one game to Georgia.
The Bulldogs were 8 – 0 and ranked fifth going into this game. The Gators were surprisingly 5 -3 and unranked. They upset UGA and won 20 – 13.
Florida QB Rex Grossman was very inconsistent but he played well. Grossman threw for 339 yards and two touchdowns.
"This was huge," Grossman said. "It couldn't have been any bigger for us."
"It's real unbearable," said Georgia senior tackle Jon Stinchcomb, tears streaming down his face. "For the rest of our lives, all the seniors will know they never beat Florida. It's one of our biggest rivalries, and we're all 0-4. That's a pretty tough pill to swallow."
This was UGA's only loss and they finished 13 – 1 and ranked third.
1997: #14 Georgia snapped a seven-game losing streak in the series with an emphatic 37 – 17 win. Junior safety Kirby Smart intercepted two passes in the game. His mother Sharon is from Florida and she may have been more happy about the victory than he was.
"She was born and raised in Florida, almost went to the University of Florida, she's from Plant City," Smart said this week. "So, it meant a lot to her. And getting to see her, that was probably the best part of it."
Robert Edwards rushed for 124 yards and tied his school record with four touchdown runs. Hines Ward finished with 203 total yards.
"That's one of the few scores that I actually remember," said Matt Stinchcomb, an All-American left tackle for the Bulldogs. "I don't think I can tell you what the score was I don't think in any other game that I've ever played in – 37-17 sticks out in my mind. It was certainly a special day for sure."
The Gators had won 52-14, 52-17 and 47-7 the previous three years against the Bulldogs.