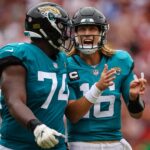 By: Kenneth Harrison
TheSouthernSportsEdition.com news services
The NFL season is underway and there is a lot of room for improvement for several teams. We are going to take a look at the AFC South and preview the Week 2 matchups.
Indianapolis @ Jacksonville: This sounds crazy to say but the Colts acquired Matt Ryan to win games like this. Last season with a playoff berth on the line in Week 18, Indy lost in Jacksonville (3-14) to a bad team. That's when they realized they had to move on from Carson Wentz and upgrade the quarterback position.
On paper it looks like the Colts have a complete team and they only need solid quarterback play to make a deep playoff run. They tied division rival Houston in Week 1, 20 – 20. Matt Ryan did throw for 352 yards and a touchdown in his debut but he also had two turnovers.
The Jaguars are coming into the season with optimism. Doug Pederson is the new head coach and he's the man that finally brought a Super Bowl to Philadelphia. Trevor Lawrence is also expected to drastically improve in his second year in the league. The Jags lost to Washington 28 -22 to start the season.
The Colts are looking to send a message to Jacksonville and they will win convincingly.
Houston @ Denver: The Texans are expected to be a bad team but they put up a very good fight against Indy. The game ended in a tie but they did lead 20 – 3 going into the fourth quarter.
Lovie Smith is in his first year as head coach. He served as associate head coach and defensive coordinator for the Texans for the 2021 season. The defense recorded 25 takeaways in 2021, tied for tenth.
"Obviously we didn't lose the game, but it kind of feels that way since we were up, we were doing so many good things in the beginning and then they came back," Houston linebacker Christian Kirksey said.
Quarterback Davis Mills threw for 240 yards, 2 touchdowns, no interceptions and completed 62% of his pass attempts.
Receiver Brandon Cooks led the team with 7 receptions for 82 yards. Houston struggled running the ball, gaining 77 yards on 28 attempts.
We all know the Broncos have Russell Wilson now but I don't think they are an elite team.
I pick Denver to win but not a blowout.
Tennessee @ Buffalo: This is a Monday Night Football game so we expect it to be good.
They played Monday night last season and the Titans won, 34 – 31. Some things have changed since last year though because the Bills are the favorite to win the AFC.
They started the season by blowing out the defending Super Bowl champion Rams on the road, 31 – 10. Josh Allen looks like he might win MVP this season.
Tennessee lost a close game to the Giants 21 – 20 so they are looking for their first win of the season. Derrick Henry played his first regular season game since his 2021 foot injury. He rushed for 82 yards on 21 carries. Ryan Tannehill is looked at as the weak link, which is why they drafter quarterback Malik Willis in the third round of the 2022 draft.
They also traded star wide receiver A.J. Brown to Philly on the first day of the draft so they are missing a key weapon.
I expect Buffalo to win by double digits.