Marcus Mariota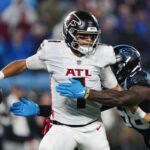 By: Kenneth Harrison
TheSouthernSportsEdition.com news services
Going into the 2022 NFL season the expectations were low for the Atlanta Falcons.
They traded Matt Ryan in the offseason to Indianapolis. Ryan had been the starting quarterback in Atlanta since he was drafted in 2008.
Veteran journeyman Marcus Mariota signed a two-year deal and was named the starter in March 2022. They also drafted Desmond Ridder out of Cincinnati in the third round (74th overall) in the 2022 NFL draft.
I thought the Falcons were good enough to win six games before the season started. They went 7 – 10, primarily because Tampa Bay clinched the NFC South and rested several starters in the final game of the season.
Mariota had an outstanding college career. As a junior at Oregon in 2014 he won the Heisman Trophy, Maxwell Award, Manning Award, Walter Camp Award, Davey O'Brien Award, Johnny Unitas Golden Arm Award and was named the AP College Football Player of the year.
He was drafted with the second overall pick in the 2015 draft by Tennessee, but he never lived up to the hype or expectations. He struggled with injuries and poor play before being benched in favor of Ryan Tannehill in 2019. He was a backup for the Raiders for two seasons before he signed with Atlanta.
He was clearly a short-term option at QB and the Falcons started the season 0 – 2 with losses to New Orleans and the Rams. They won their next two games against Seattle and Cleveland to get to .500.  They won two of their next four games, which were against San Francisco and Carolina.
Mariota was serviceable in the thirteen games he started, with a 5 – 8 record. He passed for 2,219 yards, 15 touchdowns, 9 interceptions and completed 61.3% of his passes. He also rushed for 438 yards and 4 scores.
He did play timid and make questionable plays. In the Week 2, 31-27 loss to the LA Rams Atlanta had the ball and was driving in the final six seconds. They were at the 50-yard line and had to throw a Hail Mary. He scrambled around running out the last 6 seconds, got sacked and fumbled.
Ridder started the final four games, going 2 – 2. He did not throw his first touchdown pass until Week 18 against Tampa. In those four games he threw for 708 yards, 2 TD's, 0 picks and completed 63.5% of his passes. I'm not sure if he has done enough to not make Atlanta consider drafting a quarterback in the upcoming draft.
The future looks bright because they have some talented skill position players. Rookie Drake London (USC) was drafted 8th in the 2022 draft. He had 72 receptions, 4 touchdowns and 3 fumbles.
Fellow rookie running back Tyler Allgier (BYU) was a fifth-round pick and he played well down the stretch. He only started seven games, but he rushed for 1,035 yards, 3 scores and averaged 4.9 yards per carry.
Starting running back/kick returner Cordarrelle Patterson missed five games this season due to injury.
Atlanta ranked 27th in total defense, giving up 362.1 yards per game and 22.7 points per game. They are currently looking to hire a new defensive coordinator.
"It will be refreshing to go in there as we get to more formal interviews and hear other people's perspectives and learn a lot about people," coach Arthur Smith said. "We'll hire the best candidate, but the way we built it won't change."
The Falcons will pick eight in 2023 so they have an opportunity to draft a superstar.