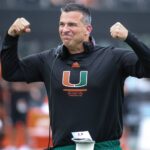 By: Robert Craft
TheSouthernSportsEdition.com news services
Meet rock bottom. Square one. That's good news or bad news depending on your viewpoint.
Maybe it had to sink like this to inspire the type of reform the Miami Hurricanes are set to see.
But after two decades of mediocrity, it is time.
Welcome to the nuclear reboot.
The season ending loss to Pittsburgh ended too many weeks of opponents throwing upside-down U's. A tweet sent out by Pittsburgh's athletic department Saturday night ridiculing UM for kicking a field goal to avert a shutout says it all.
The entire state of being is really bad right now. It stinks. It's a character tester. Just don't play the blame game: the list runs too deep and it is irrelevant in today's discussion.
Does it matter if a roster devoid of impact talent is Manny Diaz' fault? Or Blake James' fault. Does Al Golden still get blamed for not firing Mark D'Onofrio?
Does Mario Cristobal get his hand slapped in year one for everything not going perfectly after arriving 12 months ago and staffing an entire football program in a few short weeks.
It is time to look forward, not backward. The rear-view mirror is absolutely horrifying. Rip that thing off the dashboard and smash it into sand, it's time to embrace the change.
The disastrous 2022 football season is over, but you won't recognize the Miami Hurricanes come September. Miami hired Cristobal to build a championship team, and his job really starts now. This minute. This second. Time's ticking.
All was not a waste of time in 2022. Cristobal laid a foundation of expectation. He solidified the University investment in football and was the driving force behind the NIL operations that now exist behind the scenes.
Cristobal can't be happy about what he found at Miami, or anything else that went wrong this year in this season of hell. It has been a whirlwind, but as far as I know, his agent is not trying to find him a new job.
He wasn't a candidate at Auburn.
Cristobal must embrace the challenge of the fix here and the work involved. The bottom line is that the Hurricanes will have about 40 new players next season. That's half a roster.
It is harsh. It is cold. The roster purge is about to take place, which could result in as many as 25-30 players with eligibility left sent to the transfer portal, it is also very necessary for the rebuild. Put simply there is no other way out. Miami fans have been riding and watching the merry-go-round and rollercoaster for two decades.
There will be exit meetings with Cristobal and his staff in the next few days that will result in many more departures by choice or (in some cases) not.
Every one of the 85 roster spots is a valuable commodity right now. Each player will have to prove his worth this year to own one of the spots going into the new year.
This is an unprecedented opportunity for Miami to fix its football program if it can land the right replacements. NCAA rules give new head coaches 18 months to make unlimited roster changes.
Current NCAA rules also allow unlimited signees and transfer additions as long as a program stays under the 85-man roster limit.
Miami didn't hire Cristobal and pay him $8 million a year because it thought that the program was going to be playing for the national title this year. Cristobal was hired for his recruiting prowess and to push the team in that direction in years to come.
There are lots of good college football teams, but what made Miami "The U" was the SWAGGER!!
Cristobal may make the Canes an ACC contender again, but I'm not sure the SWAGGER will follow!!!