NFC South Week 1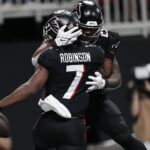 By: Kenneth Harrison
TheSouthernSportsEdition.com news services
The NFL season kicked off yesterday. I'm going to take a look around the NFC South and see what we can take away from these performances.
Atlanta- 24 Carolina- 10: As a Falcons fan I've always been grateful to the Panthers. No matter how bad the Falcons are you can always count on one win against the guys from Charlotte.
I expected it to be a rough day for Bryce Young since he's a rookie quarterback on a bad team making his debut. The first pick in the draft went 20-38 passing for 146 yards, 1 touchdown and 2 interceptions. I expect him to get better as the season goes on.
I was curious how the Falcons backfield would look since they drafted Bijan Robinson with the 8th pick in the 2023 draft. Tyler Allgeier rushed for over one thousand yards last season as a rookie.  Allgeier rushed for 75 yards and two TD's on 15 carries. Robinson had 10 carries for 56 yards and 6 receptions for 27 yards and a score.
"This was a super-fun first game for me," Robinson said. "I just can't wait to showcase what we've got going down the line."
Desmond Ridder is not the franchise quarterback of the future. He was efficient passing the ball, completing 15 of 18 attempts. He only passed for 115 yards though. He does not throw the ball downfield so playmakers like Kyle Pitts or Drake London can excel. London had zero catches and only 1 target. Pitts caught 2 passes for 44 yards.
Tampa Bay- 20 Minnesota-17: This game surprised me and left me thinking the Buccaneers have a chance to win the division. It's way too early to make that prediction but they were the most impressive NFC South team yesterday.
Tom Brady retired for good, allegedly, and they replaced him with Baker Mayfield. The former number one pick is a journeyman who is on his last opportunity to be a starter in the NFL. He passed for 174 yards and 2 TD's. Those aren't impressive numbers but it is a big deal that he did not throw a pick. Mike Evans caught 6 passes for 66 yards and a score.
"It just comes with playing quarterback for a long time," said Mayfield, who hopped from the Browns to the Panthers to the Rams to before landing with the Bucs. "The most important play is the next one."
The Vikings won the NFC North last season and made the playoffs so this is a good win. Kirk Cousins passed for 344 yards, 2 touchdowns and an interception. He also lost 2 fumbles so the defense did a good job causing turnovers.
New Orleans- 16 Tennessee- 15: Derek Carr made his debut with the Saints and he did a decent job. He threw for 305 yards, 1 TD and 1 interception. He was sacked four times so he took a beating.
"I'm glad we won. That's all I wanted to do," said Carr. "That was one of the more physical games I've played in my 10 years. … We showed that we could win the ultimate physical type of game."
Star running back Alvin Kamara is suspended the first three games of the season. Jamaal Williams had 18 carries for 45 yards, which is a paltry 2.5 yards per carry.
Second year receiver Chris Olave led the team with 8 catches and 112 yards.
New Orleans was the favorite to win the division before the season started. I think the Bucs will challenge them.

By: Kenneth Harrison Jr.
TheSouthernSportsEdition.com news services
The NFL season has officially kicked off and there were some great games.
All 32 teams (even Cleveland) believe they have a chance for a winning season at this point. Well maybe not Buffalo but you get my drift. We're going to take a look around the NFC South to see what we learned.
New Orleans and Tampa Bay played a great, high scoring game. The Buccaneers won 48-40 on the road. The first thing that jumps out is the lack of defense from both teams.
Jameis Winston is currently serving a three-game suspension, so journeyman QB Ryan Fitzpatrick played. Surprisingly, Fitzpatrick threw for 417 yards, 4 touchdowns, no interceptions and completed 75% of his passes.
He played amazing but he has been inconsistent his entire career. I believe if he wins another game, he will take the starting job from Winston.
The Saints have been known for elite offense since Sean Payton and Drew Brees came to town in 2006 and they did not disappoint.
Wide receiver Michael Thomas had a monster game with 16 catches, 180 yards and a TD. He also had a costly fumble that Tampa Bay recovered.
Alvin Kamara showed that he would not have a sophomore slump. He scored 3 total touchdowns, a 2-point conversion and had over one hundred yards receiving.
Carolina beat Dallas 16-8. The Panthers defense looked good, holding Ezekiel Elliot to 69 yards rushing. Cam Newton lived up to his Super Man nickname, leading the team in rushing yards. He scored a TD on the ground and he looked better as a passer by completing 65% of his attempts.
We have to take into consideration this was against the Cowboys and their offense is not very good. Dallas has been elite at running the ball but they do not have any playmakers other than Elliott.
I think Carolina's defense is good but we need to see them against better offenses.
Linebacker Luke Kuechly left the game in the fourth quarter with a knee injury so that is something to monitor.
Atlanta opened on the road against the defending Super Bowl champion Philadelphia Eagles. The Eagles won 18-12 and it was a sloppy game that was delayed to due lightning.
If you recall in last season's playoff game it came down to the final play and the Falcons could not score the winning touchdown.
The Red Zone woes continued for the Falcons and that is troubling. They had five trips to the Red Zone and scored once.
On the final play of the game Atlanta was inside the Eagles 10-yard line and of course, they have to throw to Julio Jones. Unfortunately, Ryan did not throw him a catchable ball, just like the playoff loss.
I've always been a big Matty Ice fan but his expectations were raised when he signed his new $150 million contract. He's under much more scrutiny and I feel this is a Super Bowl or bust year for the Falcons.
We have 15 more games left so I do not want to overreact after week 1.
The NFC South looks like it will be the most competitive division in the league again. I believe if one of the teams can get home field advantage in the playoffs they will get to the Super Bowl.