Return To Chief-Hood?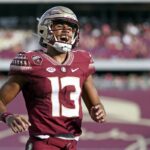 By: Robert Craft
TheSouthernSportsEdition.com news services
What a difference a year makes, FSU football statistically has made huge changes.
The Seminoles are trending on both sides of the ball in elite company.
First, the 'Noles average nearly 100 more total yards per game than last year, jumping up from 379 to 477 yards per game due to a deeper set of skill players, a better offensive line, and stronger quarterback play.
Let's start with QBs, redshirt junior quarterback Jordan Travis and his co-starter McKenzie Milton have already eclipsed the production in 2021 with 2,300 yards and 18 passing touchdowns. FSU's passing offense, while effective at times later in the season, ranked in the bottom half of the ACC last season.
This year, on the other hand- Travis is ranked third in the ACC in passing yards (2,414) and touchdowns (24). A noteworthy turnaround for a team pointed downhill for almost 5 years.
FSU scores about seven more points per game than last season, jumping from 27.6 to 34 in 2022, aided by 41-point, 45-point, and 38-point outbursts in the current three-game win streak.
It's also worth noting the FSU offense took its foot off the gas while comfortably ahead during stretches of the third and fourth quarters in four ACC games this season — those three wins and against Boston College.
The Seminoles' rushing offense lost 2021 starter Jashaun Corbin, and has gone stretches without this year's starter Treshaun Ward. Yet, FSU only continues to skyrocket the stat book on the ground.
FSU improved from 177 rushing yards per game (No. 6 ACC) and 4.8 yards per carry last season, up to 5.5 per attempt and a dominant 213 yards per game. Aided by backs Trey Benson, Lawrance Toafilli, and along with Ward, those totals rank No. 1 in the ACC and No. 16 in the nation.
Of course, all those yards and offensive production wouldn't be possible without a much-improved offensive line, even if the personnel stays the same.
Offensive fronts may not always have stats to back up their performance, but pass-protection wise, the returns are crystal clear: FSU gave up 36 sacks last year (2 per game) and only 16 this year (second-best in ACC).
Defensively, Florida State is in position of shaving off 8.4 points per game from its season average.
Last year, defensive coordinator Adam Fuller's bunch gave up a respectable 26.5 points per outing, but this year they're knocking that number down to 18.1 (tied for best in ACC).
The Seminoles also rose to best in the ACC in total defense (293 yards allowed), which is over an 80-yard improvement from last season's 377.8 mark (No. 6 in ACC).
In many of these areas, FSU rose from the middle of the pack.
Special teams return yardage, the 'Noles emerged from the doldrums of the conference.
Instead of ranking No. 12 in yards per kick return and No. 13 in yards per punt return, FSU now ranks third in the ACC in both categories.
Florida State is currently ranked No. 11 in the country in total defense and No. 16 in the country in total offense.
The only other teams to be in the Top 20 in both categories? Alabama, Georgia and Ohio State.
I don't know if Norvell will ever get this program back to an elite level, but man, after these last three weeks, and considering how far they've come in the last three years, it's not exactly far-fetched, is it?