Will Florida Gators Upset Utah Utes?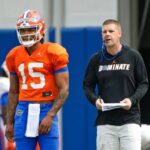 By: Robert Craft
TheSouthernSportsEdition.com news services
There is a new era beginning for the Florida Gators football program.
Billy Napier's era will officially begin on September 3, as the Gators host the No. 7 Utah Utes.
Utah finished the 2021 campaign as the Pac-12 Champions. Kyle Whittingham's team finished the regular season with a 9-3 record. They beat Oregon in the Pac-12 Championship game and fell three points short of beating Ohio State in the Rose Bowl. They finished 10-4.
Whittingham has a small connection to UF. He took the head coaching job at Utah in 2005, replacing Urban Meyer.
Meyer, of course, left Utah to accept the head coaching job at Florida and went on to win two National Championships in Gainesville.
The Gators don't have a coach entering their 18th season at the helm, like Whittingham at Utah. Billy Napier was hired 276 days before the game kicked off. There are much easier ways to begin your tenure, something Napier jokingly acknowledged at SEC Media Day.
One of the biggest question marks for the Gators in 2022 is: Can they stop the run? Last season Florida finished 10th in the SEC allowing 163.92 yards per game. That was nearly 100 yards more than Georgia and nearly 78 more than Alabama.
The Gators have a ton of pass rushers but they're thin on the interior defensive line. Is Florida stout enough to plug up the middle and stop Utah from running it up the gut? It won't take long to find out what kind of defense the Gators will have this season.
Cameron Rising and Tavion Thomas are a very tough combo to beat. Rising was a 64% passer last season with 20 TDs and just five picks, while Thomas added a school-record 21 rushing touchdowns, third-most in the FBS last season, with a 5.4 ypc average.
Returning that core, which tortured Ohio State's D in the Rose Bowl, is vital in a cross-country road opener, especially against a soft Gator front.
This game is incredibly conflicting to me. If we know anything about the Pac 12 in recent years, it's that they will eliminate themselves from playoff contention as soon as possible. The best team in the conference suffers a big loss at the beginning of the year almost every year. This would be that spot.
Last year, however, Florida was one of the worst teams against the spread because they were simply given credit for being Florida; even though they were a bad team. They went 6-7 and played in the SEC, yet they were only a home underdog once.
Now, Billy Napier comes to town after an incredible run at Louisiana and has Anthony Richardson at quarterback. Richardson only attempted 64 passes last year and is already considered a potential first round pick in the NFL draft. That's how good he is.
Napier brought in a lot of transfers from Louisiana on the offensive line and in the backfield. The team should become familiar with his system quickly and the offense could hit the ground running.
The Swamp will be sold out and the weather should be welcoming. Game time temperature is expected to be 81 degrees with 88% humidity and 50% chance of rain with close to 89,000 hyped up Florida fans.
The weather, crowd and The Gators will make this a miserable trip for the Utes.
The Utes Don't Care About The Weather or The Crowd, this is the most important opening game in Utah's history.  UTAH 31 FLORIDA 24