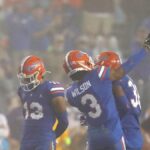 By: Robert Craft
TheSouthernSportsEdition.com news services
Last week the Florida Gators had a loss Florida fans never saw coming, a 37-34 shocker against LSU.
UF being a three touchdown favorite and losing won't be forgotten in Gainesville.
The Gators weren't a shoe in for the College Football Playoffs with a showdown with mighty Alabama this Saturday night.
This game was a microcosm of the Florida Gators season. Florida's sloppy and unemotional play by the entire team all came together last Saturday night.
The Gators have been fun to watch this season but they have not yet been a dominant team.
Other than the Georgia game, I can say there hasn't been one game where the entire team played with the passion and desire to destroy the opponent.
Mistakes through lack of effort by the offense, defense, special teams and coaches cannot go overlooked.
Kyle Trask has brought the Fun & Gun back to Gainesville, but the critics will knock him for the three turnovers.
Trask finished the night making University of Florida history by surpassing Danny Wuerffel's 1996 single season touchdown record, setting a new high with 40 touchdown passes on the season.
After starting the second half with back-to-back touchdowns drives (nine plays, 156 yards, 3:42 time of possession), the offense followed up with three consecutive three and outs.
Rewatching the game, Florida's running backs and wide receivers did not help Trask with six drops on the night. The offensive line allowed too much pressure and missed assignments that put the Gators behind the sticks.
The Gator's defense had been struggling all season. Defensive coordinator Todd Grantham has been under fire by the media and fans all season.
In the past two games (Tennessee and LSU), Florida's defense has blown coverages, lined up incorrectly, and made costly penalties.
Florida's secondary has blown coverages the entire season. I cannot remember one game this season where an opponent's receiver isn't running wide open. Majority of the time it ends in a touchdown or a chunk play that sets up a touchdown.
For some reason, Grantham likes to corner blitz. The safeties are on another page and they allow the receivers to run their routes against air.
He called corner blitzes twice in the LSU game, first one led to a 51-yard touchdown and the second one set up LSU's last touchdown.
The Gator's defense has struggled to line up correctly due to the play calls getting to players in a timely manner. This has been an issue the entire season and it has reared its head a couple times Saturday night.
The Shoe! No one is ever going to forget about the shoe. Marco Wilson's boneheaded unsportsmanlike act didn't lose the game but it helped hammer the nail in the coffin. This blunder won't be forgotten soon by Gator fans or their rivals.
With all of those miscues, Trask and company got the ball on their own 25-yard line. Three big plays later, Evan McPherson was lining up to try a 51-yard field goal to tie the game.
McPherson is more than capable of drilling a 51 yarder, but there is no denying that McPherson blew the most important field goal of his college career on Saturday night.
Dan Mullen and his staff are not blameless. Mullen's arrogance was costly, telling the ESPN production crew that he felt the Gators would get into the College Football Playoff even if they lost to LSU as long as they beat Number 1 Alabama. My biggest issue with the statement is his mindset. WHY?
Many believe Kyle Trask's chances of winning the Heisman Trophy disappeared just like Florida's College Football Playoff hopes.
That may not be the case. Trask completed 29 of 47 for 474 and 2 touchdowns and 2 rushing touchdowns; good looking stats for an ugly loss.
Whether it's right or not, Trask's turnovers will enhance the chance of Alabama's Mac Jones to win the award.
Everyone please take a moment to pray for Keyontae Johnson.