Camden County Wildcats 2022 Preview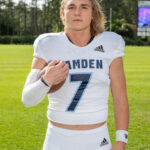 By: Jason Bishop
TheSouthernSportsEdition.com news services
The Camden County Wildcats finished last season 4-7 overall. Camden started the year 4-1 and then lost 6 straight games to close the year, including going 0-3 in the region. The Wildcats fell to the North Cobb Warriors in the first round of 7A playoffs to end the year. In fairness, 2021 schedule was extremely tough.
Region 1-7A got a little make over in the offseason. Camden, Lowndes and Colquitt all remained. Tift County dropped to 6A and both Valdosta and Richmond Hill moved up and will play in Camden's region.
Camden will have new signal caller this season in junior, Mason Robinson. Robinson is a tall, athletic kid with a cannon for an arm. Robinson will be getting his first varsity experience when the season opens, but Coach Herron believes he will turn some heads. "He is a really smart kid that runs well and is a great athlete. He has gotten a good grasp of the offense and I think he will surprise some people."
The Wildcats will see a new running back rotation out of the Wing-T. Deonte Cole will return at RB for the Cats and Coach Herron plans on using six different backs to run the ball. Quan Floyd will join Cole in the backfield and will play both ways. Brayden Ritz will also see time running the ball and Floyd will also start at corner back for Camden. Jaden Daily will get reps at fullback with Jordan James. A name to remember in this group is JaMarley Riddle according to Coach Herron.
"JaMarley Riddle will play on defense some and will the run the ball for us and is special. I wish I had played him more last season at the varsity level but he is a next level type of kid."
The offensive line rotation will be Caden Thompson, Zack Owen, Caden Whitfield, Gavin Wright, Caden Copeland. Cameron Chandler will suit up at tight end.
Christian Dallas returns at Nose Guard for Jeff Herron's group. The defensive end rotation will be Roland Baker, Demeri Thomas, DeNigel Cooper, Dylan Higginbotham and Canaan Graham.
Ian Pederson, Cooper Thornhill, and Nick Petiote will play the new "Cat" position for Herron on defense.
The secondary for the Wildcats will be led by S Jake Lindsey. Coach Herron believes Lindsey will be an anchor for his defense. "Jake is back and will keep everything moving and guys on their assignments."
Xavier Holzendorf will also be at corner with Tyree Young and Ronald Spradley-Pettus. Riddle will play S along with Jake Lindsey.
Camden's linebacker core will look drastically different from last season. The rotation will be Logan Hilliard, Christian Gaitlin, EJ Kerbo, Caden Evanson, and Alex Chaney.
"I like this team. I think we are young but will grow and be really good."
Camden hosts Columbia, Glynn Academy, Dade Christian (Miami, FL), Somerset Academy, First Coast, Valdosta and Lowndes.
The Wildcats will travel to Brunswick High, Richmond Hill and Colquitt County.
I think the Wildcats will post a winning season and the influence of Jeff Herron will become very evident in this group. Camden will be in the mix for a region championship and another playoff berth.
Games that will be key for the Wildcats this season will be Brunswick High, Glynn Academy, Valdosta and Lowndes.
In the end, this team is going to surprise a lot of people. I am predicting the Wildcats to go 8-2 and finish with a #2 seed in the region. I also expect Camden to win at least one playoff game, if not make an Elite 8 appearance.