Expect The Unexpected in Georgia Bulldogs and Florida Gators Rivalry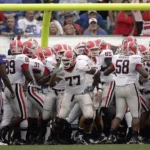 By: Jeff Doke
TheSouthernSportsEdition.com news services
As I write this, we are getting closer to the 102nd edition of the Georgia/Florida game (101st if you go by Florida's lackluster standards).
Close to kickoff of one of the most anticipated editions of the WLOCP in recent memory, and I'm as jittery as a hyper-caffeinated hummingbird. I'm sure most of my fellow Dawgs are feeling the same way, but not for the same reasons.
I mean, sure, the temporary loss of Brock Bowers has all of us walking on eggshells, but that's not it. With Oscar Delp Lawson Luckie, and Pearce Spurlin still in the TE room, we're still above the curve in that position.
Never mind the fact that Georgia's WR corps is the strongest it's been in…well, arguably ever. Dominic Lovett, Rara Thomas, and a finally healthy Ladd McConkey are finally coming into their own. In fact, receivers not wearing the #19 for the Dawgs have amassed almost 1800 yards so far this season.
The defense isn't it, either. Sure, they're not as legendary as the last two years' squads, but they're not Division II scrubs either. In fact, going into the bye week, the 2023 UGA Defense is ranked first in the SEC in:
Scoring
Rushing yards allowed
Passing yards allowed
Total yards allowed
Interceptions
3rd Down conversions
Passes defended
Plays of 20+ yards
The disappointing Vandy game, maybe? Nope, not that either. Let's be honest. Kirby Smart and company took on that game like a scrimmage. They ran a noticeable number of plays and formations that they've been having problems with just to work on them while they could.
And don't get me started on that field. The fans noticed players slipping all over the place, and the players confirmed it during postgame. The Commode Doors stadium quite aptly lived up to their nickname.
I bemoaned the "sky is falling" mentality of Dawg Nation in cyberspace in my last article. You would think that would be it, but TwitterX seems to have cleared it's head, and as for Facebook…let's just say the "Snooze for 30 Days" feature is one of the few things that future lizzid people overlord Mark Zuckerberg has gotten right in the last decade. No, I'm in a good headspace there as well.
What's got me nervous is two things from what I can tell.
First, Florida is bad. REALLY bad. They lost a spring game to themselves and their head coach was the quickest Gators head coach to reach 8 losses since Jim McElwain. Yet, they continue to win games that they shouldn't. I was sure Tennessee was finally going to break their losing streak in Gainesville this year, and the Orange & Blue had absolutely NO BUSINESS coming back to beat USC jr like that.
Second, things are just lining up too nicely for Georgia if you look at the numbers. I once again quote the Floridian singer/songwriter Delma Suggs when I say, "when everything's coming up roses, I get suspicious."
And as a bonus, there's the sinking feeling that these are the last few WLOCPs in Jacksonville.
The Jags are going to have a massive stadium overhaul that's going to take the better part of 2026-2027, and the current GA/FL agreement with the city of Jax runs out in 2025. I know Dawg Nation is pretty bitterly divided about this one , but I fear the game's days in DUUUVAL are numbered.
Enjoy it while you can, my fellow 912 Dawgs. The end of our halcyon days may be approaching.