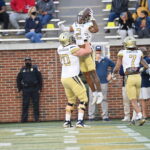 By: Kenneth Harrison
TheSouthernSportsEdition.com news services
Georgia Tech head football coach Geoff Collins is going into his third season in Atlanta.
He currently has a record of 6 – 16. So far, he has recruited better than his predecessor Paul Johnson but it has not translated on the field.
Tech's spring season included 15 practices over a 24-day span that began March 30th. The Spring game was at Bobby Dodd Stadium on a Friday night, April 23rd. Fans were able to attend.
Left tackle Devin Cochran is a grad transfer from Vanderbilt, and he looks like he will make a big contribution next season. He's 6'7, 320-pounds and he can stop a pass rusher in his tracks.
Quarterback Jeff Sims has shown what he can do with some time to pass the ball so the offense can be explosive.
Another grad transfer tackle, Kenneth Kirby will come to campus in May when he graduates from Norfolk State. He was a three-year starter and two-time All-MEAC selection.
Sims accounted for 173 yards of total offense and 3 touchdowns. He ran for a 48-yard touchdown on the fourth play of the game and completed 9-of-10 passes for 125 yards and two scores in front of a large crowd of season-ticket holders and students.
Coach Collins reset the score occasionally to make it more entertaining. He did this in the waning minutes to set up an exciting finish.
First, an 11-yard touchdown run by true freshman quarterback Chayden Peery and subsequent two-point conversion by Ryan Lantz gave the "White" team a 25-24 lead with exactly two minutes to go in the third and final period of the game.
On the following series Sims led the "Gold" team on a four-play, 65-yard drive. He threw a 33-yard touchdown pass to grad transfer Kyric McGowan to win the game.
The Yellow Jackets signal callers played well in the game. Playing in his first game in nearly 18 months due to the cancellation of his senior season of high school football in his native California, Peery completed 7-of-10 passes for 98 yards and a touchdown and ran four times for 26 yards and another score.
Redshirt freshman Jordan Yates connected on 6-of-10 passes for 99 yards and a score.
The defense forced two turnovers. There was a fumble recovery by senior defensive lineman Antonneous Clayton and an interception by senior Tariq Carpenter.
Carpenter's INT came on a defense called by Georgia Tech men's basketball head coach and honorary spring game defensive coach Josh Pastner.
The offensive line played well. They were not called for any false starts, which was a big problem in 2020.
Center Mikey Minihan accurately delivered snaps to the Sims, blocked effectively and had a handle on the defense's pre-snap movements. Last season was his first-time playing center and he struggled at times.
Before the game team captains for offense and defense met at midfield. Three of the four were unsurprising selections – Sims and right guard Ryan Johnson (who was voted a permanent captain for the 2020 team at the end of the season) and safety Juanyeh Thomas. The fourth was grad-transfer linebacker Ayinde Eley, who joined the team in January from Maryland. They were voted by their teammates earlier in the week.
In his brief time at Tech, Eley "has made a tremendous impact to our program," Collins said. "He is a great leader; he is a great teammate. He is a great worker within our program."
Tech's first game is September 4th at home against Northern Illinois. Hopefully this is the season where they can get back to a bowl game.