Where SEC Teams Rank In Transfer Portal Recruiting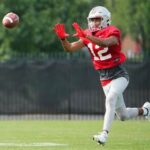 By: Kenneth Harrison
TheSouthernSportsEdition.com news services
The transfer portal has changed college football forever.
Student athletes now have the option to leave a school at the drop of a hat.
A school can land a good recruiting class but keeping all of those kids on campus for 3-4 years is basically impossible. Let's examine how the SEC is doing with the transfer portal in 2023.
Auburn: This name is a shocker because they've been in bad shape over the last couple of years. Hugh Freeze was hired in November to be the 31st head coach at Auburn. He has a checkered past, but he coached at Ole Miss from 2012-2016.
They have the 5th ranked transfer portal class in the nation. They are bringing in a total of 16 players.
Six of them are four-star recruits and the other 10 are three-star. Some of the big names are wide receiver Caleb Burton (Ohio State), linebacker Austin Keys (Ole Miss), defensive lineman Justin Rogers (Kentucky), linebacker DeMario Tolan (LSU) and quarterback Payton Thorne (Michigan State).
The 2023 recruiting class is ranked 18th, so Freeze looks poised to make Auburn a bowl team again.
Arkansas: The Razorbacks have the 6th ranked portal recruiting class in 2023. They were 7 – 6 in 2022 so they needed to bring in more talent.
They had a breakout season in 2022, finishing 9 – 4. Head coach Sam Pittman is entering his fourth season so he may feel the hot seat warming up.
The class has 17 players; three are four-star and 14 are three-star. The notable players are corner back Jaheim Singletary (Georgia), guard Josh Braun (Florida), QB Jacolby Criswell (North Carolina), corner back Al Walcott (Baylor) and defensive end Trajan Jeffcoat (Mizzou).
I think they will make it back to a bowl game in 2023, but I think they will finish the regular season with six wins.
LSU: The Tigers have the 9th ranked portal class. They also have the No. 6 recruiting class in 2023.
Brian Kelly is entering his second season as the head ball coach in Baton Rouge and he's getting talented players on campus.
LSU overachieved in 2022, finishing the season 10 – 4 and winning the SEC West.
The portal class has 12 players: 4 four-stars and 8 three-stars. Some big name players transferring in are linebacker Omar Speights (Oregon State), LB Ovie Oghoufo (Texas), corner back Jakailin Johnson (Ohio State), corner Denver Harris (Texas A&M), defensive end Bradyn Swinson (Oregon) and wide receiver Aaron Anderson (Alabama).
They should win ten games again this season.
Kentucky: The Wildcats have the 12th ranked portal class.
Kentucky is slowly becoming a football school. Mark Stoops has been the head coach in Lexington since 2013 and he has turned that program around.
They have made seven consecutive bowl appearances. The team was 10 – 3 in 2021 but went 7 – 6 in 2022.
They have 10 players transferring in; four are four-star recruits and five are three-star. Some of the new faces are inside offensive lineman Ben Christman (Ohio State), tackle Courtland Ford (USC), defensive tackle Keeshawn Silver (UNC), QB Devin Leary (NC State), safety Jantzen Dunn (Ohio State) and tackle Tanner Bowles (Alabama).
Ole Miss (21), Florida (22) and Tennessee (23) were the other SEC teams to land top 25 transfer portal recruiting classes.