Buford Wolves 2022 Preview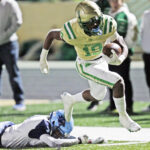 By: Kenneth Harrison
TheSouthernSportsEdition.com news services
Buford has the best football program in Georgia.
The Wolves have won three consecutive state championship, bringing their total to 14. Out of those 14 championships only one came before the year 2001. They have won in every classification and 2022 will be their first season in the state's highest, 7A.
As you would expect from an elite program, they are loaded with talent.
Running back Justice Haynes is a four-star recruit and the No. 9 player in the state for the class of 2023. He's 5'10 and 200 pounds so he has a good combination of size and speed.  He's the son of former Georgia Bulldog and Pittsburgh Steeler Verron Haynes.
Haynes has rushed for 5,873 yards and 72 scores. He is also an elite left-handed pitcher with a 90-mph fastball. He has committed to Georgia.
Offensive tackle Paul Mubenga is a three-star recruit and a Michigan commit. He's 6'4 and 280 pounds, so he's huge for a high school player. He needs to develop more power to be an elite player in college.
KJ Bolden is the top player in Georgia for the class of 2024 and a four-star recruit. He's listed as an athlete, but he plays wide receiver and defensive back. He projects to be a safety in college. He ran 10.76 seconds 100-meter dash.
Junior defensive end KingJoseph Edwards is also a four-star recruit and No. 4 recruit in the class of 2024. He's 6'5, 235 lbs. and very powerful. He had a great performance at the 2022 Atlanta Under Armour camp.
Fellow junior defensive end Eddrick Houston is the No. 13 recruit in Georgia for his class and also a four-star recruit. Houston is 255-pounds, so he's bigger than Edwards. He has a great combination of size and strength.
Sophomore linebacker Jadon Perlotte already has about 20 offers. He will be the next great linebacker from Buford.
The season starts August 26th at home against Mallard Creek (Charlotte, NC). The Mavericks were 6-5 last season, so they are an average team. This is an easy win for Buford.
The Next week is also home against North Cobb. The Warriors are a very good team, led by four-star senior QB Malachi Singleton. They played last year in the season opener and Buford won 35-27. This will be another close game that could go either way.
Roman Catholic travels from Philadelphia Week 3 to play the Wolves. They were 3-7 in 2021 so I'm surprised at this matchup. Buford will win big.
The first away game is at Marietta. The Blue Devils have Wisconsin commit, corner back Jace Arnold. This will still be a double-digit win for the Wolves.
Region play begins with the defending 7A state champs, Collins Hill. The Eagles lost a lot of talent from last year's team, but they will still be good.
Tight end Ethan Davis is the No. 11 player in the state for the class of 2024. I give them the edge in this game.
The last four games of the season are against Mill Creek, Dacula, Mountain View and Central Gwinnett.
The only game I think they are in danger of losing is against Mill Creek. The Hawks are coming off an 11-2 season and they have the top player in the state for the class of 2024, safety Caleb Downs.
Worst case scenario for Buford is they finish the regular season 8-2. I don't think they will win a state championship this season but they are loaded with talent.