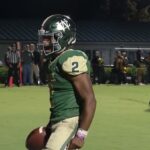 By: Kipp Branch
TheSouthernSportsEdition.com news services
The Ware County Gators finished the 2020 season with a 10-2 record. Those two losses came to Warner Robins and Cartersville each by 3 points. Those teams played for the 5A State Championship last fall.
Head Coach Jason Strickland begins his third season at Ware this fall with an overall record of 18-6 in his first two seasons.
When asked about what he likes about his 2021 football team the Head Gator offered "With the close calls last year against those two teams that beat us that ended up playing for the title showed our kids how close we are to being at that championship level. This team just feels different. I think we are one of the best 4-5 teams out there. Our kids have developed a culture of accountability and that has been a tone setter leading up this this season. Our kids feel like we are good enough to win it."
On offense it all revolves around QB Thomas Castellanos who his coach calls a "Special, special kid". "He can do anything on the football field. His best intangible is that he plays QB for us. He calls about 50% of the plays on Friday night, makes all of our protection calls, and he is just a natural leader." Castellanos will play his college football at Central Florida next year.
Running back Cartevious Norton is set to have a banner senior season. "He is a kid I'm pulling hard for. By the end of the season, I think everyone will know who he is".
Cameron Gonzalves is the lone returner on the offensive line, but Strickland thinks they will be bigger, stronger and more athletic than last year.
At WR James Daniels is an excellent route runner with great hands. Jarvis Hayes is the guy who can blow the top off a defense.
Malik Mitchell and Demetrius Baldwin will lead a defensive line that will rotate 7 players. "They will have to carry us until our linebacker group gets some game experience".
Trey Hargrove returns at LB and will move to Mike. LJ Hall and Teshawn Norton will start in the secondary. Strickland says "We have good talent back there but we may need to simplify things to gain experience. I want these kids to play fast".
Henry Bates a 4.0 student returns at kicker. "He is a great character kid who looks to kick at the next level".
Strickland says the region is "brutal". "Warner Robins won state. Coffee was a final four team last year, and Veterans really punched us in the mouth when we played them. Wayne has good talent and an excellent staff and was a team that was really decimated by injuries last year that should be much better this year."
The schedule is difficult. "They might want to run that guy off around here who set that up" Strickland joked. "It will create some exciting Friday nights for us this fall"
Ware Schedule/My Predictions:
8/20 @ Cook: Gators win big on the road.
8/27 vs Bartram Trail (FL): Higher classification program from Florida comes to the Swamp. Bartram Trail is a good program but they go down to Ware.
9/3 vs Baldwin: Baldwin not physical enough in the trenches, Gators big.
9/10 vs Thomson: Proud program coming in for a beat down. Ware big once again.
9/17 @ Bainbridge: If the Gators drop a non-region game this could be it. I think this one is a classic and Ware wins a huge road game late say 34-30.
9/24 @ Benedictine: Only way Ware drops this is, if the Savannah Zebras are a factor in the game. Ware stays undefeated.
10/8 @ Coffee: Ware lost by two TD's on their last journey to Jardine Stadium. Ware has Castellanos and Coffee does not. Ware in a war.
10/15 vs Warner Robins: Gators back home after traveling a combined 600 miles over South Georgia highways over the previous 3 weeks. These teams could meet again in the playoffs. Gators get revenge at home.
The Gators finish the regular season undefeated after beating Veterans and Wayne.
Look out for this football team. They are well coached, talented, athletic and most of all hungry. These Gators are dangerous folks.