Sutton Ellis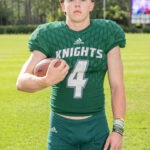 By: Jeff Doke
TheSouthernSportsEdition.com news services
For the first time in his 10-year tenure, the season is approaching too quickly for Coach Brandon Derrick.
Thankfully, it has nothing to do with the status of his players. During the offseason, Frederica started a massive multi-million dollar renovation of their football facilities. Upgrades to the bleachers, press boxes, and a massive stone & cypress pavilion will make the home of the Knights one of the premier facilities in the GISA.
But the recent ongoing spell of rainy weather has delayed completion of the projects, and the Knights have had to take to the road for their Week 1 matchup against Brookwood and delay their home opener until Week 3 versus the Valwood Valiants.
Regardless of when they get it, the Frederica faithful are in for a treat under the oaks this year, both on the field and off.
"If we have some good luck the first three games we've got a good chance," said Coach Derrick. "We've got a pretty good group of kids, and we have an opportunity to be right in the middle of it at the end of the season."
Leading the charge this year will be new QB Sutton Ellis, who transferred to Frederica from Brunswick High after last season. Speaking about his new signal caller, Coach Derrick is quite complimentary.
"I think he fits in perfectly. He's learned the offense; he knows what he's doing out there. The biggest thing will be can he take some of the pressure off #4."
Of course, the #4 in question is "The River," RB Jordan Triplett. At the midway point of his high school career, Triplett has notched just over 3,400 yards rushing on 463 carries, averaging 7.4 YPC and finding paydirt a gaudy 47 times.
"To me he's a Christian McCaffrey type. He's gotten a step faster; he's great coming out & catching the ball. He's going to be lining up not just in the backfield this year. (New Offensive Coordinator) Bo Yeargan is going to get him in some matchups with people that they're not going to like."
On the defensive side of the ball, Coach Derrick is expecting big things from some of his rising freshmen.
"Down the road, I think Connor Pope could be our new Ashton (Frankel, c/o '21 defensive powerhouse). He learned really fast this summer at camp. He and (fellow freshman) Fuller Wimberly could be difference makers."
Here's how we see the 2022 season shaping up for the Knights:
WEEK 1 – @Brookwood – Playing on the road will make things tougher against the Warriors, but the Knights find a way, starting the season with a 27-17 victory.
WEEK 2 – @Tiftarea – Chula, GA is never a n easy place to play, but the boys in Green & Grey get it done, 35-28.
Week 3 – vs. Valwood – Flipping this game to a home stand will help tremendously against one of Frederica's toughest non-region rivals. The Knights christen the new facility with a hard-fought win to the tune of 42-31.
Week 4 – vs. Calvary Day – The Cavaliers finally make the trek to play under the oaks, but unfortunately the result doesn't change. Calvary Day stretches their win streak against the Knights to three, beating the home squad 34-17.
Week 5 – @John Milledge – They still haven't forgiven us for 2018, and they'll remind us of that fact. It'll be closer than the last two games, but JMA knocks Fred to 3-2 on the year, 45-28.
Week 6 – vs. Clinch County – Home cookin' makes the difference this time, Knights win in a defensive struggle, 17-14.
Week 7 – @Tattnall Square – Frederica heads to middle Georgia for the second game in three weeks. That much time on I-16 isn't good for anybody, and the Knights will struggle with this one, falling 41-17.
Week 8 – vs. Robert Toombs – An old rivalry gets renewed, and the Knights get back on track. The River hits a highwater point on the year, and the rest of the team follows. Big win, 55-10.
Week 9 – @Bulloch – the home team always seems to struggle in this most heated rivalry. This one will be no different. Knights over Gators 33-18.
Week 10 – @Pinewood – The schedule won't hurt the Patriots as badly this year, but it won't be enough. Frederica with a close win against a talented squad, 35-31.
Week 11 – vs. St. Andrews – The Lions have a new head coach this year and will be better for it. Not enough to keep Coach Derrick from securing another region crown, however. FA wraps up the regular season with a 48-21 win.
FINAL PREDICITON – 8-3, division champs, deep run in the playoffs.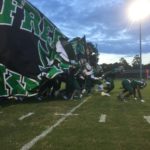 By: Jeff Doke
TheSouthernSportsEdition.com news services
It's a Friday afternoon at Frederica Academy, and Coach Brandon Derrick is happy to have made it through the day without any injuries.
Granted, this was spring field day at the school, not spring football practice, but he'll take the victories where he can get them.
"Any day without injuries is a good day around here," says the Englewood, Tennessee native, preparing for his 10th season leading the Frederica Knights.
The injury report was not his friend last season. Multiple week absences from two key players on an already short roster meant the 2021 Knights would have to rely on a late-season surge to salvage a .500 record for the year and eke into the playoffs.
It was a difficult task for a team that started with a scant 24 players on the roster, but relief is on the way for the 2022 Knights.
That relief comes in two forms; an influx of young talent from a rising freshman class that led the middle school Knights to an undefeated season last year, and a rising senior quarterback transferring in from Brunswick High.
After helping helm the Brunswick High Pirates to an 11-1 record in 2021, Class of 2023 Quarterback Sutton Ellis will be suiting up for his final campaign in the forest green and gunmetal grey of Frederica Academy,
"After the playoff loss to Dacula, his dad reached out to me," recalls Coach Derrick. "He told me some things were said and Sutton wants to come over here. I told him if he wants to transfer, he'll be like everyone else. He'll have to compete."
Ellis is used to competition. Splitting time under center last season, he managed to complete 42 of 83 attempts for 689 yards and 5 touchdowns during the Pirates' run to the state playoffs. His first few months on campus at Frederica would lead you to believe those numbers can go nowhere but up this season.
"After his dad reached out to me, they came over to campus and hung out for a day," elaborates Coach Derrick. "Sutton loved it. He thought this was a good place & a good setup and jumped right in. He's playing baseball right now, starting at catcher."
Since most of his eventual football teammates are two- and three sport athletes, there won't be a true spring practice, save for film room, weight training, and playbook work.
"(Sutton)'s got the playbook and is studying it. He and Grant are actually working on it together right now."
The "Grant" that Coach Derrick mentions is rising freshman QB Grant Moore – the leader of the previously mentioned undefeated middle school Frederica team from last season and the "competition" Coach Derrick spoke of in that first phone call with Sutton's dad.
"We've got an 8th Grader coming up named Grant Moore that's going to be pretty good," says Derrick. "(He and Sutton) going to have to battle, it'll be a competition.
Sutton is more of a traditional-style quarterback guy, and Grant is a pure athlete. We'll be able to get him on the field at other positions, but I'm pretty sure they'll both see action under center at some point."
Joining the freshman QB will be several of his middle school teammates, not just adding depth to a roster that desperately needed it, but many starting as well.
"We'll be starting or playing 8-10 freshmen, on the lines mostly. As crazy as that sounds, they're gonna be some pretty good freshmen. We're going to have 30-40 kids all total this year. The cupboard isn't bare for the first time in a long time."
Possibly the biggest benefactor of the influx of talent will be junior phenom running back Jordan "The River" Triplett.
"Jordan has been playing a lot of basketball, now baseball," reports Coach Derrick. "He's a great three sport athlete, but his main focus is always football. He's up to 195 lbs and is working on his speed & technique at a clinic down in Jacksonville. Hopefully Sutton & Grant will be able to get some throws to the outside, spread the field a little bit, and open up the middle for Jordan. We're trying to add in some new wrinkles to get (Jordan) the ball in space."
If I've learned anything in the last ten years, it's that when Brandon Derrick starts talking about adding wrinkles to the playbook, there's going to be some fun-to-watch football on the way. In his own tongue-in-cheek, self-deprecating words, "we've got a chance to make some noise as long as I don't do anything stupid."