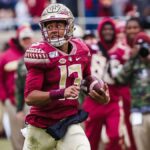 By: Robert Craft
TheSouthernSportsEdition.com news services
Florida State hosts number 5)North Carolina on Saturday evening at Doak Campbell Stadium.
The Seminoles enter the game with a 1-3 record, including an ugly 0-3 record against their Atlantic Coast Conference foes.
The Tar Heels are at an undefeated, 3-0, with all three victories coming in conference play. North Carolina enters the game on a six-game winning streak.
The Tar Heels' offense is led by sophomore quarterback Sam Howell (fun fact: He was at one time an FSU commit).
Howell leads the ACC with passes over 10 yards and greater (154), 30 yards and greater (30) and 40 yards and greater (17).  After three games, Howell is 57 of 83 for 777 yards, 6 touchdowns and 3 interceptions.
Howell isn't the only weapon on offense, Michael Carter and Javonte Williams have created arguably the best running back tandem in today's college football.
The duo has a combined average of 232 rushing yards per game.
Carter is averaging 10.3 yards per carry and has two rushing touchdowns so far.
Williams is averaging 6.3 yard per rush and has seven total touchdowns.
Both are very capable receivers as well; Carter has 8 receptions for 81 yards and Williams has 6 receptions for 133 yards and a touchdown.
Watch out for junior receiver Dyami Brown, he leads the Tar Heels with 13 receptions for 240 yards and 2 touchdowns.
On the defensive side of the ball the Tar Heels are led by sophomore defensive end Tomari Fox. Fox leads the team with 4.5 tackles for loss and 3 sacks. North Carolina has 20 tackles for loss and 23 quarterback hurries.
Florida State enters this game with one certainty, Jordan Travis will be the starting quarterback.
Travis was one of few bright spots in the 16 point beat down last week by Notre Dame. He showcased some play making abilities that were really impressive.
Jordan Travis, a transfer from Louisville, was 13- 24 for 204 yards, a touchdown and an interception.
He also rushed for 96 yards and a touchdown. Travis's 48-yard bomb to Tamorrion Terry late in the first quarter showed his play making potential.
The Seminoles still have a problem protecting the quarterback and opening lanes for the running backs.
All the sacks and pressures from the first three games can be placed into one of three categories: missed assignments, linemen getting beat, and poor quarterback play.
After last Saturday night, those categories have shrunk to two. But without a supporting cast on the front line, will it make a difference?
Freshman Robert Scott, getting his second career start at right tackle, showed some flashes and impressed me. The other four starters on the line couldn't bust a grape!
Here's a stat: No defense in the country allows more first downs than Florida State. The Seminole's defense has been pounded on the ground and through the air. Playing defense has become a trending problem for every team in the entire state of Florida.
North Carolina opens as an eight-point favorite. This one will be close for the first half, then I see the Tar Heels wearing down the Noles. Final score: UNC 48 FSU 27.
FSU took another loss on Tuesday when their top linebacker recruit Branden Jenning decommitted. FSU currently has 16 commits and ranks 25 overall.