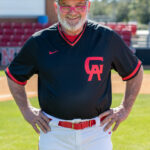 By: Charles Skipper
TheSouthernSportsEdition.com news services
I have only been writing articles for two months now and I do not know how many more opportunities I will have in the future to write others but I feel it is safe to say that this will be the most difficult one I will ever have to compose.
The reason for the level of difficulty in this particular article is that it is about the passing of my best friend Bob Black on April 4th, 2022.
Bob was diagnosed with Cancer in early February and lived six weeks after receiving the news. During those six weeks hundreds of people reached out to Coach Black, as he was known, and let him know how much he meant to them.
The Glynn Academy Baseball Team honored him at their game with Brunswick High School and he was able to stand and throw out the first pitch.
He told me after the event that he had no idea the amount of love and respect that people in the community had for him. He was humbled beyond words and extremely appreciative of everyone's support.
I could fill volumes of articles with stories and antidotes of my friendship with Bob from the time we first met in 1983 at Georgia Southern but I have chosen another way to honor Coach Black.
I reached out to other Coaches that were fortunate enough to work alongside Bob in his coaching career and asked them to share their thoughts and experiences with Coach Black. These are their own words on what Bob meant to them and the kids they coached together.
Cricket Mobley: To lose a friend like Bob Black would leave a big hole in anyone's "Friends" list. For me it takes away someone I have shared a lot of experiences with and shown up with.
We Coached the local kids and allowed us to grow up with them. To be a part of athletics and life with Bob was truly a blessing and I will miss him every day.
God bless Bob and his family and may the voices of time speak well of him. Always available. Always A Competitor. Always a friend. Love you Man
Todd Collier: Coach Black was tough on the field but he was always the first one to give them that atta boy hug afterwards. He was a player's coach and the kids wanted to work hard for him. They worked hard for his respect. They never wanted to disappoint Coach Black.
Ted Wallen: Coach Bob was our backbone. He not only coached kids, he coached coaches. He would send out group texts to all the coaches at some of our worst times and remind us all of what we have to be grateful for and say "it is a great day to be a Terror."
Our players are deeply saddened by the loss of their Coach. Bob reminded us just how powerful the Human Spirit can be.
Rocky Hidalgo: He will be remembered as the most honest man I ever met.
Coach Black would never sugar coat anything. He was open, direct and honest with every player and coach in our program, whether they liked it or not. He will be missed by all of us associated with the program.
Scott Spence: I knew Coach Black for over 30 years. I had the opportunity to work with him from the perspective of a Coach, Athletic Director, Principal and Superintendent.
He unselfishly gave himself to the student-athletes of the Glynn County School System. I can think of few, if any, who supported our student-athletes during that time frame in the positive manner that Coach Black did.
He was a good man who unselfishly wanted to see all of our young people succeed. Those kinds of people are very rare and we will miss him tremendously. We lost a good man.
The interactions and relationships Bob had with players and Coaches will be forever remembered and cherished by them. He truly was a person that made the world a better place.
Bob, I hope the fish are always biting and the Braves, Bulldogs and Terrors are winning all their games up there where you are my oldest friend.
We miss you and you keep them laughing up there Pal.