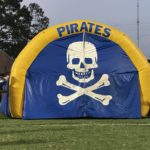 By: Kenneth Harrison
TheSouthernSportsEdition.com news services
We are entering the last week of the regular season for Georgia high school football.
At this point we have separated the contenders from the pretenders. Let's take a look at 6A to see who will bring home the state championship.
#1 Buford: The Wolves (8 – 1) lost to Chaminade-Madonna (FL), 7 – 0. They beat the #2 team in 7A, North Cobb, which is their only loss. Buford has only given up two points in region play. The last game of the season is at Dacula.
Last season was Buford's first season in 6A after winning the 5A state championship in 2019. They beat Lee County in the championship game 34 -31. Senior wide receiver Isiah Bond is the No. 8 recruit in Georgia for the class of 2022 and he's a four-star player. He's committed to Florida.
Senior safety Jake Pope is also a four-star prospect and he's committed to Alabama. Corner back Ryland Gandy has committed to Pitt. Running back Victor Venn has committed to Colorado. Quarterback Ashton Daniels is a Stanford commit.
The Wolves will win their third consecutive state title this season.
#2 Lee County: The Trojans (9 – 1) are on a collision course to meet Buford in the state championship game again. Their lone loss was a blowout against 5A Warner Robins, 56 – 30.
They beat North Miami Beach 68 – 49 to begin the month of October. It's alarming that the defense has shown they will give up a lot of points.
Senior linebacker Jaron Willis is a four-star recruit and committed to Georgia Tech.
Offensive tackle Qae'shon Sapp is a three-star player and he committed to Florida State.
Safety Quavian Carter is also a three-star recruit and he committed to Michigan State.
Safety Malcolm Jones is a Virginia Tech commit.
On paper this team is as talented as any team in the state.
#3 Langston Hughes: The Panthers (8 – 1) lost the season opener 7 – 6 to 7A Newton. They reeled off eight consecutive wins after that. They beat crosstown rival, #6 Westlake 31 – 24.
Junior offensive tackle Bo Hughley is a four-star player and committed to Georgia. At 6'7 and 290 pounds he's one of the most physically imposing players in Georgia.
Safety Terrance Love and wide receiver Robert Lockhart III are also a four-star players.
The final regular season game is Friday against Morrow. Hughes is legit and I expect them to make a deep run in the playoffs.
#4 Brunswick: The Pirates (9 – 0) are a bit of a surprise. Their undefeated and on the verge of winning region 2-AAAAAA. Their last game is at Effingham (6 -2), which will determine the region champion.
Senior OL Kanaya Charlton is a 4-star and is committed to Florida State.
#5 Rome: The Wolves (7 -2) are a perennial contender.
One of their loses was to the #1 7A team Collins Hill, which is expected. Their other loss was 34 – 32 to South Paulding, who is also in region 5-AAAAAA.
They have blown the rest of their opponents out.
The final game of the regular season is at Paulding County and they have a chance to win the region.
#8 Riverwood: The Raiders (8 – 1) are led by head coach Robert Edwards. As a running back at Georgia he's most famous for leading them to their only victory against Florida while Steve Spurrier was the coach.
Riverwood has a prolific offense. They scored at least 24 points in every game this season.
They end the season at Chattahoochee.
.