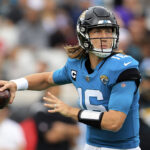 By: Kipp Branch
TheSouthernSportsEdition.com news services
The 2022 NFL Draft will be the 87th annual meeting of National Football League franchises to select newly eligible players.
The draft is scheduled to be held in Paradise, Nevada, from April 28–30, 2022.
For the second year in a row the Jacksonville Jaguars hold the number one overall selection. The Jags are a team with many pressing needs. Let us look at the top two areas of need for the 2022 Jacksonville Jaguars.
Wide Receiver: The Jaguars have a potential franchise quarterback in Trevor Lawrence, who they selected first overall in 2021.
They must build the offense around him and keep surrounding him with more weapons. Their wide receiver corps is good but not great.
Jacksonville paid a pile of money to sign Christian Kirk form Arizona. Kirk was never the #1 option in Arizona, but Jacksonville gave him a #1 receiver contract. We shall see how this plays out. The top five receiving prospects in this draft are:
Garrett Wilson/Ohio State University/Projected top ten pick
Jameson Williams/University of Alabama/Projected top fifteen pick
Drake London/University of Southern California/Projected top fifteen pick
Treylon Burks/University of Arkansas/Projected top fifteen pick
Chris Olave/Ohio State University/Projected First Round
To get one of the top five rated wide receivers the Jaguars would need to trade down in the draft for a Garrett Wilson and collect draft capital in the process.
If the top five names above, go as projected in the first round where they are slotted could Jacksonville draft former Georgia WR George Pickens with the first pick in the second round #33 to address the need at WR.
Pickens is a stud who ran 4.47 at the combine 11 months removed from a torn ACL. Pickens is a top thirty rated prospect on many NFL draft boards. This is a position of high need for Jacksonville that needs to be addressed in the first two rounds.
Offensive Line: The Jaguars need to replenish the offensive line in 2022. Look no further than the University of Alabama's Evan Neal.
Neal's Draft Profile:
Rating: 92.93 (All-Pro)
Pro Comparison: Bigger Andrew Thomas
Strengths: Insanely large, impossibly twitched up for his size. Carries his weight extremely well. Loose-hipped blocker with effortless power, which makes him a tremendous asset at the second level. High-end recovery skills because of his suddenness. Creates huge arc for rushers to run around to the QB. Balance could use some work. All-Pro upside and is mostly NFL ready.
Weaknesses: Can get a little overanxious at the second level and lunge, and the same is true in pass protection. Anchor is not as sturdy as expected given his size. Occasionally, small speed rushers get the best of him.
Accolades: 2021- Consensus All-America (two sacks allowed in fifteen starts)
Forty career starts (2020 CFP national champion)
Neal has been projected anywhere from the first overall pick to the fifth overall pick in most mock drafts I have seen.
I think Jacksonville should take Neal with the number one overall pick and draft the best wide receiver on their board with the first selection in second round. Then draft additional wide receivers and maybe some help secondary help in the mid to later round.
To take the next step the Jacksonville Jaguars need to provide Trevor Lawrence with some weapons, or you are setting him up for failure.