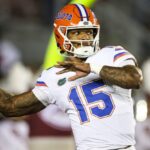 By: Robert Craft
TheSouthernSportsEdition.com news services
Florida Gators quarterback Anthony Richardson, one of the hottest and most difficult-to-sort prospects in the 2023 NFL Draft, has every athletic trait I can think of.
At 6-foot-4 and 231 pounds, Richardson has a missile launcher for a right arm. He's expected to flirt with a 4.4-second 40-yard dash at the combine. He's even got a big, bright, Draft Day smile.
Richardson will be covered relentlessly for the remainder of the draft cycle, because the football world knows so little about him (and he has incredible skills). He made just 13 starts in college and threw fewer than 400 career passes. Teams will want to know more about his personality, football IQ and leadership.
Somewhere along the way scouts and coaches will learn that Richardson is a prospect who has been waiting a lifetime for this opportunity. Right now, he appears to be the most interesting man in today's draft cycle.
In his only season as a starter, Richardson completed just 53.8% of his passes for 2,549 yards, 17 touchdowns and 9 interceptions. He also rushed for 649 yards and 9 touchdowns.
ESPN's Todd McShay has Richardson going ninth overall to the Carolina Panthers in his latest mock draft.
From a draft perspective, the most pressing question on Richardson is; how high does his stock rise before late April?
Overall, reactions to Richardson's pros and cons are mixed, but his ceiling is higher than any quarterback in this class.
When people watch his film, they'll find the times where Richardson struggled (early 2022), where he progressed and where he improved as the season wore on. Is he closer to being ready than some think? I believe he is
Many wonder if Richardson will be a first-round pick. To me, the actual mystery is whether Richardson will climb into the top 10.
"The questions about his readiness are valid and his game needs refinement" is what pro quarterback coaches will say. On the other hand, offensive coordinators are gonna say, "Give me Anthony Richardson. I'll give you a quarterback in two or three years who will win BIG." That to me is a big-time look ahead. It's a leap of faith in talent.
Physically, he is the most talented quarterback in this class, but he's not developed yet. He's not ready. Carolina needs an NFL ready quarterback.
Why not take a shot? In order to have success in this league, you've got to have a quarterback. Anthony Richardson has a chance to be a star or you could wind up drafting another quarterback in a year or two. That's the most fascinating part about him.
Whether he goes to the Panthers or elsewhere, Richardson's development will be interesting to follow over the next couple of seasons. He might need some time, and picking him before he blossoms could end up paying off in a big way.
So, he might stand as too big a challenge for a franchise without a foundation. For one with ground underneath it and a willingness to develop a QB, though? Richardson could be the lottery ticket it's always wanted.
Anthony Richardson is an incredibly talented yet unproven prospect, with a heart the size of his frame. For NFL programs, he's a guy who can either make your draft or break your heart.