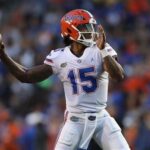 By: Kenneth Harrison
TheSouthernSportsEdition.com news services
The 2023 NFL Draft is later this month. Let's take a look at the top quarterback prospects.
Bryce Young, Alabama: In his two seasons as the starter in Tuscaloosa his record is 23 – 4.
In 2021 he won just about every accolade you can imagine. He won the Heisman Trophy, Maxwell Award, Davey O'Brien Award, Manning Award, AP College Football Player of the Year, Sporting News College Football Player of the Year, Consensus All-American, SEC Offensive Player of the Year and SEC Championship Game MVP.
He's thrown for 8,356 yards, 80 touchdowns, 12 interceptions and he completed 65.8% of his passes in his career. Young is 5'10, 204 pounds so he does not have the prototypical height for the position.
At his pro day he threw 50 passes and completed 44 of them. Four of the incomplete passes were not his fault. He has exceptionally good accuracy and he's expected to be the top pick, going to Carolina.
C.J. Stroud, Ohio State: I think he's the best prospect in the draft. Stroud is 21 – 4 in his two seasons as a starter. He's 6'3, 214 pounds so he has the height to see over defenders and offensive lineman in the pocket.
In his career he passed for 7,775 yards, 81 TD's, 12 picks with a 69.3% completion rate. He played the best game of his career in his final game in the College Football Playoff against Georgia.
It says a lot about his character that he was able to play his best on a national stage against the best team in the nation. He should be picked No. 2 by the Houston Texans.
Will Levies, Kentucky: After the first two quarterbacks I think there's a precipitous drop off in talent. Levis started his career at Penn State from 2018 to 2020.
He redshirted his first year, then spent the next two as Sean Clifford's backup. He transferred to Kentucky in 2021, after graduating that May with a bachelor's degree in finance from Penn State's Smeal College of Business.
In his two season's starting in Lexington his record is 18 – 8, which is impressive for Kentucky. He's thrown for 5,876 yards, 46 scores, 25 interceptions and he completed 64.9% of his passes.
He's thrown double digit interceptions in both seasons so he does turn the ball over. Some people make the argument that the Wildcats lacked talent so he had to force some throws.
He is 6'4, 232 lbs. so he has good size. He's now projected to go later in the first round, possibly as late as the No. 19 pick to Tampa Bay.
Anthony Richardson, Florida: He's the example of possessing all of the measurables but the film does not match that. He's 6'4, 244 pounds so scouts fell in love with his size. Then he ran a 4.43 40-yard dash and had a 40.5 inch vertical jump.
Now for what he's done on the field. He's only started 13 games, with a 6 – 7 record.
He's passed for 3,105 yards, 24 touchdowns, 15 interceptions and completed 54.7% of his passes. He did rush for 1,116 yards and 12 scores.
He struggles with accuracy and turning the ball over. He also does not have much playing experience. He's going to be drafted high based on his potential.
He has been projected to be drafted as high as No. 4. I think he will be picked in the top 10 by a desperate franchise, even though he is expected to be a backup as a rookie.