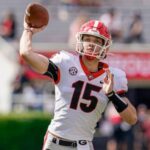 By: Kipp Branch
TheSouthernSportsEdition.com news services
We're halfway through with the 2023 Georgia football season, and Carson Beck is the big man on campus in Athens, Georgia.
He is the QB on the number one team in the country that is currently riding a 23-game winning streak. Beck's stats at the halfway point look like this:
144-of-196 passes (73.5-percent)
1,886 yards
13 total touchdowns; 11 passing touchdowns
9.6 yards per attempt
Two comeback victories in SEC play
SEC Co-Offensive Player of the Week, October 7
His head coach has all the confidence in his abilities and offered this about his QB recently on how he can improve: "Mobility. Getting in and out of the pocket decisions, when to tuck it down and run versus stand in and throw," Kirby Smart said. "Some designed runs probably wouldn't hurt him around the red area and things that he can do. He's a good athlete." Smart is always coaching his kids up.
After all, Beck has some big shoes to fill. His predecessor as Georgia's starting quarterback was Stetson Bennett, who led the Bulldogs to consecutive national championships and was always at his best in the biggest games.
Now, after three years spent watching mostly from the sidelines, Beck is finally getting his chance to lead the No. 1 Bulldogs and he is making the most of that opportunity.
During both the South Carolina and Auburn games I thought "UGA just had 2 national championship years. It must end somehow and I'm going to be ok with this". I still want to see UGA go undefeated every single year. Seeing UGA win back-to-back titles and witnessing generational greatness related to UGA football fills the fulfillment tank. At least, for a while. I'll start to get aggravated again when UGA starts going 8-4 with an unexplainable loss or two thrown in there again.
When things looked bleak at Auburn a few weeks ago Beck's play won the UGA fan base over. He won me over.
I feel more confident now about him in pressure situations than ever before. He won in a very tough environment.
Auburn ran the ball all over the UGA defense for the entire game and UGA turned it over numerous times. For Beck to stand in there and lead those last 3 drives, that was impressive.
The national media gave most of the credit to Brock Bowers, who is the best tight end in college football history, but Carson Beck was the one delivering those passes. The man is just cool under pressure.
Carson Beck has more pass attempts than any other QB in the SEC at the halfway point of the season. Not saying this is a good or bad thing, but halfway through the season I think it is safe to say this isn't a run-run-pass offense as the Mike Bobo critics shouted to the heavens during the summer. Kirby Smart has unleashed Carson Beck and is going to ride on his arm in 2023.
UGA is 39-1 since the loss to Florida in 2020. UGA could be 48-1 if they can run the table for the 3-peat.
The statistics, records, and accomplishments from this run will easily be used as one of the standards for modern college football dynasties.
Alabama set the standard with 6 titles in 12 years, but Kirby has built something at UGA that is special.
I remember the 43-4-1 run from 1980-83 and thought nothing would ever top that at UGA. Well, I was wrong these are unequaled times in Athens, Georgia.
Carson Beck has a chance to make his own legacy at UGA. He is off to a great start.
Carson Beck is a kid who grew up in the Jacksonville area and he will get his opportunity to make his mark in the World's Largest Outdoor Cocktail Party right in his own backyard. This young man is a baller.