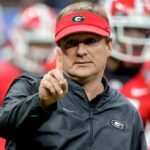 By: Robert Craft
TheSouthernSportsEdition.com news services
After Georgia's 41-24 loss to Alabama, Georgia fans took to social media complaining about head coach Kirby Smart. Some fans went as far as saying it was time for change.
If you want to start www.FireKirby.com or #FireKirby, let me, a longtime UGA adversary, drive that bandwagon.
All Kirby has done is build an Elite program in Athens, and I will happily let you idiots ruin that to benefit my Gators.
Getting back on topic, Georgia fans are a bunch of arrogant, spoiled, crybabies. Georgia has not won a National Championship since 1980 and up until 2015 Georgia has only been relevant a couple years at a time during the 1990s onward.
Fans have been comparing Smart to Mark Richt after Georgia's loss to Alabama (again) last weekend.
Anyone who is honestly considering the idea that Georgia's program is in the same place now as it was then should simply go look up the 2015 Georgia vs Alabama game.
All Georgia fans wanted was a program just like Alabama. Kirby achieved that goal in year two of his legacy in Athens. But, losing to Nick Saban three times (National Championship Game, SEC Championship game and October 17th) has Bulldog Nation on edge.
Kirby has constructed a program through recruiting. Georgia's current class is ranked number third in the nation, and they have finished with the number one class in the country 3 out of the last 4 years. In my opinion, Kirby and staff are the top recruiters in the country.
The state of Georgia is a hotbed for high school football and Kirby gets who he wants in his home state. He also goes into Florida and recruits the top talent to their neighbor in the north.
The quickest take you'll get on the last Alabama vs Georgia game: Matt Jones is better than Stetson Bennett!
Don't get me wrong Kirby has his issues with hiring and firing offensive coordinators and five-star players transferring to other programs, he's good but certainly not perfect.
I heard some Georgia fans saying he can recruit but he can't coach. That is the biggest pile of bull. Kirby simply runs the defense and Georgia's defense is simply the best in the country.
Kirby has outcoached Florida's Dan Mullen the last two seasons. Completely controlling both games with his style of play.
Being 3-1 versus the Gators, Kirby knows the importance of this game as a player, and now, he coaches just like the Ole' Ball Coach.
Mark Richt was 5-10 against the Gators in his 15 years in Athens.
So, the smug Bulldog fans who are whining about the Alabama loss, who are you hiring to replace Kirby?
There are only three other coaches in the country at the same level as Kirby Smart: Nick Saban, Dabo Swinney and Ryan Day.
The Bulldogs are the favorite in the SEC East to travel to Atlanta to face Alabama in the SEC Championship game.
If Kirby gets a chance in Atlanta to face Nick Saban again during this COVID environment shows his coaching prowess.
To Georgia fans, please just shut up and enjoy the greatness in front of you.
In my opinion, Kirby Smart is one of the top 5 coaches in college football.